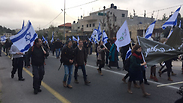 The marchers
Photo: Daniel Elior
Hundreds of Israelis, led by settler leaders, participated in a protest march along Route 60 in the West Bank on Tuesday, demanding to close the roads in the area for Palestinian movement during and after terror attacks in order to create deterrence and increase security.

The protesters marched along a road that saw several terror attacks, walking from Karmei Tzur to the Gush Etzion Junction.

They were carrying Israeli flags and calling out "Am Israel Chai" (The people of Israel live) and "The eternal nation is not afraid of a long path."

Marchers were joined by Bayit Yehudi MK Bezalel Smotrich, who endorsed their demand from the government in which he himself serves.

Large numbers of police and IDF troops secured the march, while vehicle movement on the main road was blocked.

IDF soldiers had to use crowd dispersal measures near Beit Ummar and near the Al-Arroub camp to deter Palestinians who were throwing stones at troops.

Among the marchers was also Chaya Gelman, whose brother Benaya Sarel was killed in Gaza during Operation Protective Edge and whose brother-in-law Eliav Gelman was killed from errant fire aimed at a terrorist in the Gush Etzion Junction three weeks ago.

"We are not willing to remain quiet facing this reality of a terror attack every day," said Gelman, who lives in the Jewish settlement in Hebron. "Just recently I came under a barrage of stones in three different instances. We're marching here to show we're strong, this is a feeling of strength that Am Israel Chai, to march where my brother-in-law was murdered."

Davidi Perl, the head of the Gush Etzion Regional Council, told Ynet that the government is showing powerlessness in the face of terrorism. "We demand to block the roads during terror attacks and several hours or days afterwards; this is something we need for security, not for separation. This road is plagued with terrorism, and the government must act to increase the residents' personal security. The government is not doing enough on this issue."

The head of the Har Hevron Regional Council, Yochai Damari, said that "We're living in an impossible reality. There are terror attacks on this road every day - a roadside charge or a stabbing. The main thing the people here are asking for is security. We're in favor of coexistence, but when hostile elements take advantage of the situation to harm lives, we can't continue our daily routine. The government must do more. Our blood is no less red than that of other residents in the country."

"The policy of the Israeli government in the north and on the Gaza border is, 'If there is no peace and quiet for Jews, there will be no peace and quiet for the other side,'" Damari went on to say. "We demand that the same policy be implemented in Judea and Samaria."

The Tazpit Press Service (TPS) contributed to this story.