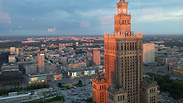 Poles imagine Israel as a kind of Jewish shtetl in Eastern Europe before World War II, they argue that it's a dangerous and aggressive country, and they don't believe that it's democratic, according to an opinion poll conducted among Polish citizens, the sixth largest country in Europe.
The survey, commissioned by the Israeli Embassy in Warsaw, showed that only 13 percent of Poles define themselves as knowing a lot about Israel, only nine percent had met Israelis and 23 percent drew a blank, having no associations with the Jewish State.
This is the first such survey commissioned by the Embassy since the renewal of diplomatic relations between the two countries in 1990. Twenty-one percent of respondents mentioned wars, riots and conflicts as the first things that they associate with Israel; 10 percent immediately thought of the Israeli–Palestinian conflict. Only 21 percent indicated that they think of Israel as a safe country when directly asked.
The poll also found that 83 percent of Poles think that Israel is a religious or very religious country. Israel's ambassador to Poland, Anna Azari, said, "According to this figure, the Poles imagine Israel as a kind of an expanded religious shtetl."
Only 43 percent of respondents saw Israel as a modern country, and 29 percent as a tolerant one. Most Poles do not think that Israel shares values with them or that it is a democratic country, and 49 percent said that Israel is an aggressive country.
Ambassador Azari said that the survey results show that Israel must "calculate a new route" and needs "a concentrated budgetary effort" to change perceptions in Poland. According to her, "The Poles' low level of knowledge about Israel also has tangible benefits. The opinions of Poles are not deeply rooted and, therefore, are very easy to change. The results do not indicate a fixed attitude or hostility; they primarily indicate ignorance. It is not hard to fight ignorance: all that is required is investing the necessary resources."
Azari said, "Every movie that the reviewers have shown to the members of the focus groups changed the focus group's attitude for the better. Israel has been active in the new Poland for more than 25 years. Our messages that portray a democratic and progressive country are not internalized, although there is plenty of different activity in the relevant areas."
The ambassador continued, "The survey confirms the assumption that we should focus on activities about innovation and that includes young people. There is no doubt that we must draw the necessary conclusions and conduct an ongoing public relations campaign here with the help of a professional advertising agency that will focus on new media with a young audience and on innovation and lifestyle topics."