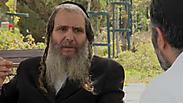 Rabbi Shalom Arush supports the initiative
Tens of thousands of Jews in Israel and around the world are expected to abstain from eating and drinking for three straight days next week, as part of an extraordinary fast established by several rabbis as a "spiritual response" to the security and social disparities in Israel.
It will be dedicated to "examining one's conscience regarding one's actions, responsibility, and contribution to social tikkun (Jewish ethics)."
The initiative, "the three days," is led by Rabbi Yuval Asherov, a natural therapist and a spiritual Kabbalistic guru. He said, "This is a critical time to the people of Israel." Other rabbis called on the public to join him, such as Rabbi Shalom Arush, a Breslov Hassidic leader.
They derived inspiration for the fast from that of the biblical Queen Esther in the Purim story in order to cancel Haman's decree. The fast is planned for those days when the Jews fasted as ordered by Esther during Xerxes' reign, the 11th, 12th and 13th days of Adar (this year: on March 21, 22 and 23) from Sunday before sunset, to Wednesday afternoon after the stars appear (when Purim starts).
"When extreme situations arise, they require an extreme reaction," explained the fast's leadership. "We must make a general break in routine to wake up, stop, cure the evil of separatism, and unite. It was known long ago that in times of trouble, when Israel unites, the troubles disappear."
"What causedus to become so fragmented and divided? How did we end up with a security situation that is threatening on all fronts? Today, there are many studies worldwide that corroborate the Jewish tradition and confirm that when the general public gets together and focuses on one single goal, it significantly changes the situation."
The organizers of "the three days" reported that tens of thousands of people in the country and the world, regardless of religious, political or ethnic affiliation, have already expressed their support of the initiative, and they anticipate the participation of hundreds of thousands of people in the events themselves: panels, prayers, studying, and the fast itself.
Those who would find the full fast too onerous are permitted to fast partially (for example, in the first half of the day) or sequentially (eat and drink during the night). The organizes invite those who unable to fast even in a compromised fashion to dedicate the three days to personal soul-searching with revival, prayer, doing good deeds and studying.