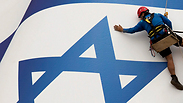 Israel stayed in 11th place
Photo: EPA
Israel is the 11th happiest country in the world, according to a report ranking countries by order of happiness published this week by Columbia University.
Denmark leads before Switzerland in the World Happiness Index's annual rating. According to the report, prepared at by Sustainable Development Solutions Network (SDSN) and the Earth Institute at Columbia University in New York, only in Burundi are people less happy than in Syria, which marked the 5th anniversary of its bloody civil war's outbreak this week.
All the countries that are at the top of the index are western, and four of them are Nordic. In addition to Denmark at the top are Iceland (third place), Norway (fourth place) and Finland (fifth place), followed by Canada, Netherlands, New Zealand, Australia, and Sweden to round out the top ten. Israel follows in eleventh place with a score almost identical to Sweden's. Denmark bumped down Switzerland and Iceland by jumping up from its number-three position last year. Israel ranks happier than the United States (13th place), the United Kingdom (23rd place), France (32nd place) and Italy (50th place). Last year and in 2013, Israel was also in 11th place. On the other end of the spectrum are failing African countries Benin, Togo, Rwanda and Liberia, as well as Syria and Afghanistan, which also suffered a long war.
"This is a strong message for my country, the United States, which is very rich, has gotten a lot richer over the last 50 years, but has gotten no happier," said Professor Jeffrey Sachs, head of the SDSN, regarding the American place outside the top ten.
The report ranks 157 countries according to several criteria: GDP, social support, life expectancy, freedom of choice and generosity. This is its fifth year. Since 2012, when it was first published, five countries appointed ministers who were responsible for their countries' happiness: Bhutan, Ecuador, Scotland, Venezuela and the United Arab Emirates.