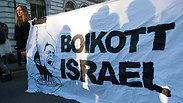 BDS in Sweden
Photo: Shutterstock
An eight-day seminar, bringing 45 lawyers, scholars, and judges from all over the world to aid Israel in its fight against BDS, started earlier this week in Israel.

The goal of the seminar, organized by Israeli NGO Shurat HaDin, is to help its participants learn about the security threats facing Israel and how the country is fighting for its defense and international image. Israeli legal experts will give lectures to the visiting jurists, and high-ranking security officials will provide briefings.

Among the planned activities for the participants are meetings with Justice Elyakim Rubinstein, the deputy president of the Supreme Court; renowned American jurist Professor Alan Dershowitz; Lt.-Col. Menachem Lieberman, the president of the Ofer military court; Daniel Reisner and Pnina Sharvit, lawyers who are experts in international law; and Kent Yalowitz, a lawyer from Arnold and Porter, which won a lawsuit against the Palestinian Authority.

Seminar attendees will participate in two workshops with experts, who will teach them how to fight BDS on university campuses with the help of legal tools and social media. They will also tour courts and observe ongoing terror trials in addition to visiting the security barrier, West Bank checkpoints, and the Lebanese and Syrian borders.

A lawyer who is participating in the seminar said that he specifically wanted to come to Israel at the height of current violence to understand what is happening in the region and to what extent Israel is threatened in terms of security and policy. He added that he is interested in hearing the perspective of high-ranking security officials to receive a fuller picture and hopes to understand how he can help Israel in its fight against BDS and terror.

The goal of the seminar is to create a network of jurists who can help Israel fight against BDS and those calling for Israel's destruction with legal tools. The participants will brainstorm ways to fight terror and delegitimization with their legal talents.

"We hope that the selected group will create a basis for an international network to fight for Israel in courts of law throughout the world," said Nitzvah Darshan Leitner, the director of Shurat HaDin. "The State of Israel desperately needs forces to fight against the threats it faces. Additionally, many Jewish and non-Jewish lawyers want to help the State of Israel fight for its existence. This seminar is a meeting of those two forces."