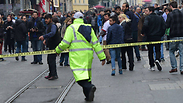 Istiklal Street, shortly after the attack.
Photo: AFP
Three Israelis were murdered in a Saturday morning suicide bombing in Istanbul that wounded at least 36 others,Turkey's deputy foreign minister confirmed on Saturday.
Israel's Foreign Ministry said there were 11 wounded Israelis: two were in serious condition, two in moderate condition, six in light condition, and a wounded woman who was in surgery. A plane carrying an MDA delegation landed in Turkey after 10pm to help examine the wounded Israelis.
The attack occurred on the city's famous Istiklal Street, a popular tourist destination visited by many people on weekends. Among the wounded Israelis were members of two different tour groups, which apparently met on Istiklal Street just before the attack.
Turkish officials said that evidence suggests that the bomber may have come from Islamic State or the outlawed Kurdistan Workers' Party (PKK).
According to the official, the suicide bomber planned to detonate in another crowded spot, but became anxious upon seeing police and triggered the bomb. By evening, video circulated on social media networks showing a suspicious individual walking around before the bomb exploded. A picture was also posted that purportedly showed the terrorist.
According to unconfirmed reports, the man in question, named as Savaş Yıldız, was linked to Islamic State. Media reports said Yıldız was involved in attacks in Mersin and Adana in southern Turkey about a year ago before fleeing to Syria.
On Saturday evening, Turkish authorities arrested Yıldız's father. Turkish news agency Doğan reported that a blood sample had been taken for the father to compare his DNA to a body found at the scene of the bombing.
In Israel, Prime Minister Benjamin Netanyahu said that "there is information that this was an attack by a member of ISIS. But this is preliminary information. In cases like this, we cooperate with other countries' intelligence agencies." He added that there was no confirmation that the attack had targeted Israelis.
Video highlighting purported bomber
Foreign Ministry Director General Dore Gold decided to cut short his participation in the AIPAC Conference in Washington, DC, which is to begin on Saturday, and fly to Istanbul to visit the wounded.
One of the murdered Israelis was named as Simha Damri, 60, of Dimona, who was in Turkey on a culinary tour with her husband, Avi, who suffered moderate wounds. He recalled the harrowing experience to Ynet: "We finished breakfast and started strolling down the boulevard." He said he had approached a store window to take a picture when he heard the explosion. "I was a little behind the group," he said. "I couldn't see my wife. The terrorist blew up perhaps four meters away from us. I have two broken legs and a punctured lung. I can barely talk, and I don't know where my wife is."
"Today's attack in Istanbul has shown us once again that the international community as a whole should act in a resolute manner against the ignoble objectives of terrorist organisations," said Turkish Prime Minister Ahmet Davutoğlu after the bombing. "I would like to convey my condolences to the families of the Israeli citizens who lost their lives in the heinous attack which happened in Istanbul and to the people of Israel, and wish a speedy recovery to the wounded."
Iran's Foreign Minister Mohammad Javad Zarif, on a diplomatic visit to Turkey, joined his hosts in Istanbul in condemning the bombing. One of the murdered was an Iranian national.
Turkey has been on high alert for the past few days, after a bombing in its capital Ankara killed at least 37 people and wounded over 100 others on March 13. Kurdish militant organization TAK, reportedly affiliated with the PKK resistance, took responsibility for the Ankara bombing on Thursday. It warned of forthcoming attacks against Turkish forces, especially in Kurdish areas of the country's south-east.
Amir Alon, Itay Blumenthal, Itamar Eichner, Noam (Dabul) Dvir, and Ran Boker contributed to this report.