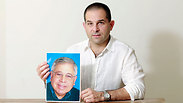 Micah Avni with a picture of his murdered father
Photo: Dana Kopel
Terror victim's son to UNHRC: You encourage murder
UN Human Rights Council convenes to discuss a series of anti-Israel resolutions, as 300 pro-Israel supporters demonstrate outside; Micah Avni slams the council for not condemning the murder of his father, who was killed in a terror attack in Jerusalem five months ago.
Israeli victims of Palestinian terror testified Monday before the United Nations Human Rights Council (UNHRC) as it convened in Geneva to discuss a series of anti-Israel resolutions, including the appointment of a new representative to monitor "human rights violations in the occupied Palestinian territories." Outside, about 300 pro-Israel protesters demonstrated against the resolutions.

In a show of solidarity with Israel, several NGOs who hold observer status in the Council invited the terror victims, including Micah Avni, son of Richard Lakin, the peace activist killed in the East Talpiot terror attack in Jerusalem five months ago.

Avni opened his remarks with a description of his father: "He was a nice, gentle man, a principal of an elementary school where thousands of children were taught, and was a human rights activist who was devoted to promoting co-existence. He marched with Martin Luther King and founded a school in Israel where Jewish, Muslim and Christian children studied."

"On October 13," continued Avni, "two Palestinian terrorists attacked a bus full of innocent civilians in Jerusalem. They shot my 76-year-old father in the head."

Avni then turned to UN Secretary-General Ban Ki-moon, the UN Israel investigator, and the Human Rights Council saying that "you did not publicly condemn the Palestinian terrorists or the incitement of the Palestinian Authority, which nourishes the deadly violence. This council's website says that the United Nations responds to the actions of terrorism and lists a long list of terrorist attacks and condemnations by the United Nations. My father's name is not listed there. In fact, not a single Israeli killed by Palestinian terrorists since September is listed."

Avni pointed out that "the Palestinian leader Mahmoud Abbas praised my father's murderer and called him a martyr. Palestinian society encourages people to kill Israelis. I came here today to challenge you: killing civilians on a bus is a terrorist act. I challenge you to immediately condemn the murder of my father. I challenge you to condemn Abbas who called the killer a martyr and who calls for violence and hatred.

"The UNHRC is like the train leading to Auschwitz. Until you see the rampant anti-Semitism that takes place here, you don't realize how dangerous it is. Israel as a state cannot continue to ignore what is happening here. Every Israeli government must join the struggle, to show what is happening here and to work towards having US cease its funding to this display of hatred. Representatives of tyrants and dictators are sitting here and receive money from the US to lambaste Israel."

Meanwhile, around 300 people demonstrated in front of the Palace of Nations in Geneva in protest of the UNHRC's likely adoption of decisions against Israel. Among the protesters from pro-Israel organizations were citizens of Switzerland, Hungary, Slovakia, France and the United States.

The first speaker at the demonstration was MK Yair Lapid (Yesh Atid), who organized the demonstration. "We are here, Jews and non-Jews, because inside the council building, they are supporting violence, terror and injustice," said Lapid. "This is not a human rights council, but a terrorists rights council."

Lapid called for stopping funding of the council, which he dubbed "an anti-Semitic organization that supports Palestinian terrorism," and bemoaned that "they don't try to conceal the fact that they are anti-Israel and anti-Jewish. Today they are discussing a series of resolutions against Israel. But against our enemies who are among the world's worst violators of human rights, no resolutions will be made."

The Palestinian mission's spokeswoman at the UNHRC blamed Israel, following the latest council report on activities in the territories, of "a policy of targeted killings and increasing oppression of Palestinians, especially children."

According to her, from the end of Operation Protective Edge until the beginning of this March, Israel has killed "122 Palestinians," including women and children. "The Palestinians are deprived of the right to life," claimed the Palestinian spokesperson. "Israel enjoys immunity for its actions."