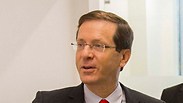 Isaac Herzog
Photo: Ido Erez
A final-status agreement with the Palestinians is currently not on the horizon, opposition head Isaac Herzog (Zionist Union) told the AIPAC Policy Conference in Washington on Monday.

"I don't feel that an immediate peace agreement between us and the Palestinians is realistic," Herzog said. "As we see right now when there is a total lack of trust, there's a lot of animosity between the peoples and the leaders, there's hardly any relationship."

The opposition head, from the center-left Zionist Union, said he nonetheless believes that Israel must still make an effort to achieve such a goal.

"I think that we need to preserve the two-state solution and work towards it," Herzog argued. "We should always be in direct eye contact with the ideal of moving towards a two-state solution because that will preserve the Jewish nature of the Jewish state."

Herzog suggested policies Israel could implement in order to forge a path toward a two-state solution.

Israel, Herzog said, could extend the security fence in the West Bank to further separate Jewish and Palestinian communities. The security fence, built by Israel following the eruption of the second intifada in 2000, has generally followed the route of the 1949 armistice lines separating Israeli and Jordanian forces.

"At this stage when we are in the midst of a very painful wave of terror attacks, we should work to disengage from the Palestinians, complete the security fence around the settlement blocs and around the Muslim villages around Jerusalem, move towards empowering the Palestinians behind the fence, and of course convene an international regional security conference that will converge all the interests of all the moderate parties concerned in the region against terror, Iran, and ISIS," Herzog said.

Herzog also expressed support for using both military and diplomatic means to lower tensions. "We should combat terror with no mercy with no ifs and no buts," he stressed. "Having said that, we should also try with diplomatic means and other means to calm down the situation."

Reprinted with permission from the Tazpit Press Service (TPS).