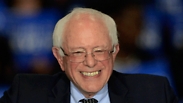 Democratic nominee Bernie Sanders
An overwhelming majority of American Democrats living in Israel voted for Bernie Sanders in the Democrats Abroad global primary, gaining 60.8 percent of the vote in Israel, while Hillary Clinton earned 39.1 percent.

Votes were casted in 38 countries by Internet, mail and in person from March 1-8. Overall, Sanders received 69 percent of the 34,570 votes to earn nine of the 13 delegates at stake. Hillary Clinton won 31 percent, picking up four delegates.

It's an important victory for Sanders, who was swept by Clinton in five states last Tuesday.

Still, Sanders continues to trail Clinton by more than 300 delegates.

Clinton now has 1,163 delegates to Sanders' 844, based on primaries and caucuses.

In the U.S. primary system, voters select delegates supporting their candidates in each state and then the delegates vote for the candidates in parties' national conventions.

.