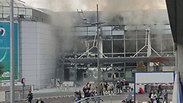 At least 30 people died on Tuesday morning when terrorist bombings in Brussels struck Zaventem Airport and a metro station. An estimated 230 people were wounded.
Islamic State claimed responsibility in an online statement. After finding an unexploded bomb at the airport, police believe one attacker escaped and is on the run. Authorities released an image of three men with luggage in the airport, who they believe were part of the plot.
At the airport, two explosions splattered blood across the departure lounge and collapsed the ceiling. Witnesses told The Associated Press that one occurred at an excess baggage payment counter and the other near a Starbucks cafe.
As a result of the attacks, Belgium was placed on maximum terror alert, the airport has been closed down, and the subway has been shut. Places normally crowded in Brussels have been cleared. The EU Commission ordered its staff to stay indoors or stay at home in the wake of the terrorist attacks.
Authorities locked down the Belgian capital after the explosions. Brussels resembles a city under siege as authorities ordered citizens to stay in their homes.
The explosions came just days after the main suspect in the November Paris attacks was arrested in Brussels. After his arrest, Salah Abdeslam told authorities he had created a new network and was planning new attacks.
The check-in counter of American Airlines was the target of the attack, according to several unconfirmed reports.
Belgian news agency Belga reported that prior to the attacks gunfire was heard and cries in Arabic were heard.
IS claimed responsibility in an online statement. "A number of Caliphate soldiers wearing explosive belts and carrying explosive devices and machine guns attacked places that were carefully chosen in Brussels, the capital of Belgium, and stormed the Brussels airport and the metro station and eliminated a large number of crusaders and then detonated their explosive belts," read the statement. The statement included a typical threat: "We promise the crusading nations that have allied against the Islamic State that there will be black days in response t their aggression against the Islamic State. What is coming will be far more terrible, with the help of Allah."
Tightened security
Authorities in Europe and across the world tightened security at airports, railway stations, government buildings and other key sites after the attacks. With Brussels on lockdown and the French prime minister saying that Europe is "at war," European leaders held emergency security meetings and deployed more police, explosives experts, sniffer dogs and plainclothes officers, with some warning against travel to Belgium.
The nervousness was felt far and wide. In New York City, authorities deployed additional counterterrorism units to crowded areas and transit locations.
"The threat we are facing in Europe is about the same as what Israel faces," said Olivier Guitta, the managing director of GlobalStrat, an international security consultancy. "We have entered an era in which we are going to have to change our way of life and take security very seriously."
Strong criticism of Belgian security came on Tuesday from Pini Schiff, a former security director at Israel's Ben-Gurion Airport, which is considered among the most secure in the world. After Palestinian attacks on Israeli planes and travelers in the 1970s, Israeli officials put in place several layers of security at that airport in Tel Aviv, meaning an attacker who escapes notice at one level of security would likely be captured by another.
Schiff said the attacks at the Brussels airport mark "a colossal failure" of Belgian security and that "the chances are very low" such a bombing could have happened in Israel.
Aftermath of the bombs at the airport
People fleeing Brussels airport after explosions
Intelligence
US government officials acknowledged that the United States believed an attack by Islamic State in Brussels was possible, if not likely. Still, they were not aware of any US intelligence about where or when the attack would occur. One of the main US lines of inquiry is that even though the attack may represent retaliation for the arrest of Abdeslam, it was likely already in the works before his arrest. Under that scenario, the attack date was already on the schedule before his arrest, and possibly advanced somewhat because of his arrest, two of the officials said.
Israeli lightly wounded in attack
A Belzer Chassid from Jerusalem was lightly injured in the blast. His relative who was with him went into shock. "We were in the middle of morning prayers, we arrived from New York and suddenly there was a blast that shook the entire building and then there was another blast," Yaakov Israeli Erez told Ynet.
Yaakov Israeli Erez, a volunteer paramedic, said: "The first thought in my mind was to go where the explosion was and help people. There are mannered Europeans here, everyone is standing outside, some of them are smoking, some of them are waiting. There is complete silence.
"They moved us all over the airport and they said there was chaos. I've been volunteering for several years and I immediately understood this was an explosion. I understood this was not a place where I could provide aid because it's impossible to get there. We saw security forces and soldiers running, the blast was strong," he concluded.
Itamar Eichner, Itay Blumenthal, Gilad Morag and Rachel Kidras contributed to this report.