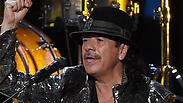 Carlos Santana. (Photo: Getty Images)
Six years after disappointing fans by cancelling his performance, Carlos Santana will perform in Tel Aviv this summer. The Mexican rock legend will put on a show in the city's Yarkon Park, on July 30. Ticket prices are expected to range between NIS 294 and NIS 694.

Santana, 68, was supposed to come to the holy land in June 2010, but cancelled a few months in advance. The official reason was a busy schedule, but speculation arose about Santana caving in to political pressure from anti-Israeli movements.

"This is a cultural and historic experience for me," says concert producer Shuki Weiss, one of the people responsible for bringing Santana to Israel. "It's not a given that stars on the level of the (Rolling) Stones, Madonna, Depeche Mode, Elton John, Barbara Streisand, and now Santana too come to us."

Santana is expected to arrive in Israel with the original crew he had in Woodstock, which will number about 11 musicians. The concert is expected to last about two and a half hours.