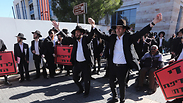 Haredi anti-draft protest
According to the State of Israel, Eliyahu is a yeshiva student, and learning Torah is his vocation. Therefore, he gets to enjoy a postponement of military service and receives a plethora of benefits. But according to his Facebook page, Eliyahu didn't learn at a yeshiva, and is not ultra-Orthodox at all. Yet, he gets the exemption and the benefits.
"I call it the ultra-Orthodox brain," he explains. "And the truth is that it does not take a lot of brains: sign up to a yeshiva, and when I get a message that an inspector is coming, I show up. The yeshiva receives the money from the state for me being registered there, and that's how I stay within the law regarding military service."
Last week, journalist Akiva Novik revealed on Channel 10 that the IDF has made the decision to enlist a yeshiva student who received a military deferment, after a woman uploaded a post on Facebook where he can be seen in situations that are not exactly identified with the ultra-Orthodox world. Meaning, he's not wearing a whole lot of clothes, and does not seem to maintain the separation between sexes. According to regulations, the state can revoke the deferments of young ultra-Orthodox who no longer meet the deferment criteria, i.e., those who don't study at yeshiva, work beyond the permitted quota of hours mandated by the military, or do not meet the ultra-Orthodox standard for modesty.
The IDF claims that this particular case is not the only example, and that the military's Personnel Directorate is working hard to locate such draft dodgers. Well, it's unclear what the Personnel Directorate is doing to locate them, but it seems that this is quite a simple task. After looking around on Facebook, we easily found several "ultra-Orthodox" youth of draft age who received deferments, but do not attend yeshivas, are clearly not "maintaining the required modesty," and in many cases, they are also working.
It's all visible
Natan (not his real name), 21 years old, is registered at a prestigious yeshiva, and his service deferral will become a full exemption soon. Meanwhile, he doesn't even bother showing up at the yeshiva where he is registered, and doesn't hide the fact that he works almost every day. Nor does he hide that he isn't ultra-Orthodox according to the accepted definition.
In fact, his details are openly displayed on his Facebook page – his work status and pictures in which he doesn't wears much and can be seen with different girls. Even in a conversation with us he didn't hide anything.
"The current situation is good for everyone," he says. "My yeshiva gets money for me - even if it's not much; I'm working and do a not half bad job at supporting myself; no less important - I don't have to join the military and get in trouble with the extremists in my neighborhood or with my parents. I know it might not be nice, but if I had been drafted, I would've been become a lone soldier who was thrown out of his home and forced to start my life all over again. I have no other option. This is a complex situation that seculars who demand full equality in the burden (of defending the country – ed.) do not always understand. So yes, I draft dodge off and deceive the state. I also know a lot of secular people who do this and get a mental evaluation exemption even though they are fully fit for service."
Chaim (not his real name), 20, is also a yeshiva student only on paper. He has been deferring his service for two years nows, and instead of learning at a yeshiva as required by law, he has been working at a bakery.
"So far, I've been bullsh***ing them by saying that I'm in a yeshiva, that I'm infertile, lots of stuff," he admits. "The truth is that at age 18, I registered to a yeshiva and that's how I got my military service deferment. However, but the yeshiva kicked me out because I didn't show up, so I went and registered at another yeshiva - that's how I've been getting by."
Would you describe yourself as ultra-Orthodox? You don't seem to be based on your pictures.
"How do I define myself? I hate black hatters (slang for ultra-Orthodox Jews - ed.), yet I'm religious! I don't observe the separation of the sexes as I've had a girlfriend for four years - but I keep kosher and I of course keep the Shabbat."
So why not contribute to the country?
"I think it is very important to contribute to the country, but I won't join the IDF."
It's estimated that each round of draftees includes approximately 10,000 ultra-Orthodox yeshiva graduates, and overall, there are between 35,000 and 40,000 ultra-Orthodox deferrers. How many of them really study in a yeshiva? It's hard to tell, but we easily found a lot of people like Chaim and Natan.
The thing is, that for every student registered at a yeshiva, the yeshiva gets NIS 453 per month from the Ministry of Religious Services. The payment is unjustifiable, obviously, because the student didn't actually attend classes at the yeshiva.
Add to that the fact that many of those we approached get paid to work under the table - meaning, tax evasion. This is basically a multifold deception of the nation.
"You don't understand the sector," explains Natan. "First of all, the revolution is in full swing - more and more ultra-Orthodox are joining the IDF. There are already 5,000 ultra-Orthodox in the IDF, and a lot more dropouts - probably over a thousand - who are being drafted like everyone else. Those who don't attend the yeshiva classes and don't get drafted must work to make a living somehow, and must work under the table."
'I do what I want'
The ease with which we got to all these ultra-Orthodox-on-paper raises uncomfortable questions. If we were able to do this, certainly the IDF can reach them - just like it did with the one who was caught taking unorthodox photos. The question is whether or not the IDF's Personnel Directorate is willing to deal with this phenomenon. Given the fact that the state itself doesn't provide support to the defense establishment on this issue, it's doubtful that there is any real motivation for the military to find ultra-Orthodox who are active on Facebook, and who post immodest images.
We spoke with another ultra-Orthodox man with an IDF deferment.
Are you a yeshiva student?
"A former student," he says.
When did you leave the yeshiva?
"Officially I'm still considered a student."
How?
"They let me do what I want because I'm more open than the other guys. In fact, I currently work while being registered at the yeshiva only because of the military requirements."
And the yeshiva agrees to that?
"They've let me do whatever I want at the yeshiva, since I turned 17. I never fought with the management, and I also had backing from the head rabbi who wouldn't let them to do anything to me."
And the military probably doesn't know you're working.
"No."
If you aren't in a yeshiva anymore, why not enlist?
"Because I have a lot of things that I can't do if I enlist. "
Ultra-Orthodox Facebook pages, such as "Head of the Yeshiva," "Tweeting Yeshiva Students," and others, are full of internal jokes and humor relating to the sector. To get a better understanding of this issue, we reached out to posters who seemed to be of draft age. In most cases, these peoples' private pages looked a little less ultra-Orthodox. We spoke with them about their relationship with the yeshiva and the IDF.
For example, Eliyahu, from the beginning of this article, explained how he and the yeshivas don't get caught.
"There were unannounced inspections of the yeshiva, and every yeshiva has its way of passing them," he says. "In one yeshiva I attended, when the inspectors came, the head of the yeshiva would stall them by bringing them into his office as distinguished guests, and would order them food and beer. Meanwhile, the yeshiva would hurriedly call up the 'students,' and gets them taxis and cars. This happened all the time, but in recent years, the phenomenon is somewhat diminished because the amounts paid for each student has been reduced."
Other yeshiva-students-on-paper have reported using similar methods with the yeshivas and the IDF. On the one hand, the ease with which they expose themselves indicates they are not afraid of being caught and conscripted. They know that the government and the defense establishment have no interest in making a fuss and forcibly draft thousands of ultra-Orthodox, especially when recruitment numbers in that sector are rising.
"The problem," says Shahar Ilan, deputy director of the Hiddush NGO for religious freedom and equality, "is the claim that studying the Torah protects us - even if there are those who believe it - is ridiculous when there are so many who don't actually study.
"In my opinion, this is how we get to the real reason why the ultra-Orthodox parties insist on IDF service deferment: The desire to prevent at any cost the exposure of ultra-Orthodox youth to an environment that isn't ultra-Orthodox. The exemption actually becomes a way to preserve their society, and deceit, fraud and draft dodging is completely a reasonable price to pay in their eyes. It's very unfortunate that the fight for equality of the national burden - which only three years ago caused a government to fall - faded in the last year. There is no doubt this exposé shows the need to renew it, full speed ahead."
IDF officials said the military is working continuously to locate draft dodgers.
The IDF compares of the lists of those who have deferments to the Interior Ministry list of yeshiva students, and by checking who left the country (a yeshiva student can't leave the country frequently and for an extended time), as well as some monitoring of social media.
It appears that now that the scale of this phenomenon has been revealed, the defense establishment will try to tighten supervision whenever possible.
An IDF source who is familiar with the phenomenon claims that "The case reported on last week is not the first and certainly not the only case of young men who get exemptions, yet are no longer in the world of Torah, thereby making the deferment of their service invalid."
The source added that "According to the law, several conditions must be met to get a deferment. If they adhere to the rules, they keep the exemption. Anyone who doesn't, loses his deferment. The IDF is continuously working to eradicate this phenomenon."