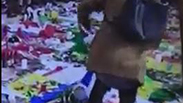 Pro-Palestinian activist vandalizing flag
A pro-Palestinian activist on Wednesday removed and tore up an Israeli flag placed at Place de la Bourse Square in Brussels in solidarity with the victims of the terror attack in the Belgian capital while French TV channel RTL was broadcasting live from the square.

The French network was broadcasting one of the spontaneous memorial services at the scene of the attack when a woman wearing a hijab was seen on camera removing the flag from among the flags of other countries, crumpling it, and tearing it up. After that, she hid it under one of the solidarity signs left at the square.

"I got the video from a Jewish student in Brussels, who happened to be watching TV and saw it on the live broadcast from the scene of the attack," said Ido Daniel, who heads the Israel Students Union's program to combat anti-Semitism.

"As soon as I got the video, I made sure to spread it across social media. This is the only way we can fight and reveal the true faces of these activists and what they're focusing on at such a dire time."

Daniel went on to condemn the protester, who he said "didn't really care about the terror victims or the catastrophe that occurred in her city only 24 hours before. What bothered her most in this terror attack was the fact the Israeli flag was there as part of a show of solidarity with the Belgian people. This is the essence of the anti-Israel obsession."