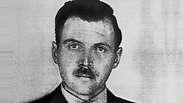 Daniel Romero Muniz, a Brazilian doctor, received permission to use the bones of Nazi criminal Dr. Josef Mengele, "the angel of death" who carried out tests on prisoners at the Auschwitz extermination camp during the Holocaust, for a research project.

During an interview with Brazilian television, Muniz, who also teaches medicine, displayed the Nazi doctor's bones. He said that Mengele's will substantially benefit medical students' study. "The bones will help train new doctors," he said. "They will be used especially for students studying how to conduct autopsies."

After the Holocaust, Mengele fled to South America. He died of a stroke while swimming in São Paolo in 1979. A retired police officer found his body. "I did not know that was Mengele's (body). He had died, and his ID said his name was Wolfgang Gerhard," he said. "I did not know that he was one of the most wanted and hated persons in the world."

The Nazi was buried as Wolfgang Gerhard, and his remains were only identified in 1985 after German authorities found a letter that Mengele's Brazilian landlord sent to the Nazi doctor's family in Germany, informing them of his death.

Thereafter, Germany informed the Brazilian government and police of the letter, and the latter interred his remains. In the following years, the police offered the Mengele family his remains, but they never came to collect them.

For the past 31 years, Mengele's remains have been preserved in a blue bag on a shelf in the Legal Medical Institute in São Paulo. Now, Muniz has transferred them to the university to train students.