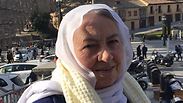 סבתא ג'מילה ה דרוזית אורחת כבוד בפסטיבל הנשים בספרד הוכרזה כאישה ישראלית פורצת דרך
Jamila Hir, also known as "Grandma Jamila," from the Druze village of Peki'in, is Israel's new "ambassador" in Spain. She represented Israel at the prestigious Festival of Women, which is held annually in Segovia, Spain. Hir, a 76-year-old owner of a cosmetic company, amazed the Israeli embassy, conquering the hearts of the Spanish press.

Hagit Mualem, the Israeli cultural attaché in Spain, arranged for Hir to come to the festival, which hosted six women from around the world, who successfully affected change in their respective societies.

Hir creates natural soaps from olive oil and medical herbs, which have garnered a reputation of a curing agent. She is the first Druze woman to build a factory with her own hands. Today she employs hundreds of Jewish, Muslim, Christian, and Druze workers and her small business brings in $50 million in profits and exports to 40 countries. She is also a widow, a mother to five children, a grandmother to 15 grandchildren, and five great grandchildren. She is proud to be the first Druze mother, whose daughter went to college and received a driver's license.

In 2006, on Israeli Independence Day, Hir and Stef Wertheimer, another Israeli businessperson, lit the Independence Day torch for their efforts to develop the Galilee.

During the Festival of Woman and in interviews after it, Hir spoke proudly about the peace that exists within the walls of the factory between Jewish, Druze, Muslim, and Christian women. "They all work together under the same slogan---only women can give birth to peace," Hir said.

She also spoke about how the Druze community lives in peace with Jews and serves in the Israeli security establishment.

Mualem added, "It was important for us to show the diversity and complexity of Israeli society. There are many faces and colors of Israel that Europe does not know. Spanish media simply loved grandma Jamila. She had an amazing performance here."