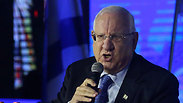 President Reuven Rivlin
Photo: Motti Kimchi
The Boycott, Divestment and Sanctions Movement (BDS) is based on the rejection of the existence of the State of Israel, President Reuven Rivlin said Monday morning at Ynet and Yedioth Ahronoth's anti-BDS conference in Jerusalem.
"We must differentiate between criticism and de-legitimization," the president argued, adding that "Criticism is completely legitimate, and we are all focused on one goal; the wellbeing of our country despite the difference of opinion."
"The BDS movement is a movement founded on the non-acceptance of Israel's existence. We must differentiate between criticism and de-legitimization. We must show the world the claims of the BDS movement are based on hatred and enmity of the State of Israel," the president stressed.
The president further stated that "in terms of the ability for a nation to return to its homeland after 2000 years, most of the world sees Israel as a friend who is requesting the creation of a different civil agenda today, meaning a Jewish and Democratic country where there is no contradiction between Judaism and Democracy."
Public Security Minister Gilad Erdan, whose office is in charge of fighting the boycott on behalf of the government, said in his address to the conference that despite the vast data he received about the hundreds of companies that are being targeted by the boycott movement, he learned that the situation wasn't as dire.
"Out of all the initiatives on campuses, only nine BDS decisions were passed," he said. "Despite the fact some 500 companies have been targeted, only few stopped their activity. As for direct investments in Israel, they increased in over 70 percent."
Erdan argued Israel should recognize the problem, but not exaggerate on the severity of the situation or panic. "We need to start managing this fight in a coordinated, professional and precise manner," he said.
"This fight is wide ranging – it is a fight for Israel's security against those who want to stop military aid to us, and is an economic battle with those that want to hurt Israeli companies," Erdan continued.
"Supporters of BDS justify their actions because of the 'occupation,' but if we really look at them, they also wave Hamas flags and call for the destruction of the State of Israel. This fight is not over any particular thing in our lives – but over our right to live here. We will do everything in order to expose the true objectives of the BDS movement, in order to expose who is behind them and who helps them," the minister added.
He was confident Israel will prevail. "Every time the issue of our existence is tested, we have known how to overcome it and succeed. Every time this happened, we have united and with joint forces found the answer, making us stronger than before... There is no doubt that we have to make sure that even at the individual level, those involved in BDS will not be able to rest. "
'We're winning on legal front'
In his address, World Jewish Congress President Ron Lauder said he wished the conference wasn't necessary. "I wish there wasn't a worldwide effort to isolate Israel, to undermine Israel, to destroy Israel," he added.
"Our enemies have failed to destroy Israel militarily and economically," Lauder said. "Having failed, they are trying to destroy Israel politically."
BDS, he said, "tries to present itself as some sort of a democratic movement concerned with human rights - that's a lie. It's an international campaign to incite hostility against Israel and the Jewish people."
The movement has no interest in peace or in improving the daily lives of the Palestinians, Lauder noted. "The world needs to see through these lies."
The BDS movement is mounting a two-pronged effort against the State of Israel - an economic boycott and an academic one, Lauder said.
"The World Jewish Congress is advancing legislation to make economic boycotts illegal. Many countries have already made boycotts illegal, and there's legislation in the US Congress as well. So on the legal front we are winning," the WJC president declared.
He expressed concerned with the BDS movement's presence on college campuses worldwide, targeting the young and impressionable minds of youths.
"From the moment they arrive at schools, colleges, and universities, our children face a barrage of anti-Semitic lies," he lamented. "College is their first exposure to the history and politics of the Middle East. They're especially vulnerable to BDS's harsh propaganda."
Ron Lauder addresses Ynet and Yedioth Ahronoth's anti-BDS conference (צילום: RR מדיה)
He also bemoaned the fact that it is difficult for pro-Israel groups on campuses to compete with the well-financed anti-Israel groups. "Most Jewish students are ill-equipped to defend themselves," he said.
To that end, the World Jewish Congress is in the process of establishing a network of organizations at key colleges and universities around the world "to help Jewish students stand up to anti-Israel groups and their lies. Skilled young professionals will train Jewish students to be proud of their heritage and of Israel."
He also called on alumni and donors who care about Israel need to make their voices heard.
Additionally, Lauder argued that in order counter the calls for boycott, a coordinated campaign was needed to encourage people to buy Israeli goods. This can be done, among other things, by using the hashtag #buyIsraeli on social media.
"We'll let the world know we're proud to support the Israeli economy," he said.
BDS, he said, is "a dangerous new strain of an age-old disease - anti-Semitism," vowing Jews will never be silent again in the face of anti-Semitism and "stand up for for what is right and expose BDS for the fraud that it is."
With that in mind, Lauder also stressed that "in this fight, we must never forget that the ultimate goal is peace."
Lauder's address was followed by a speech from Ben-Dror Yemini, a Yedioth Ahronoth editorialist and one of the most prominent voices in Israel and in the Jewish world in the struggle against the boycott.