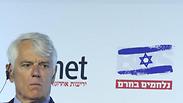 EU Ambassador to Israel Lars Faaborg-Andersen
EU Ambassador to Israel Lars Faaborg-Andersen stressed on Monday that the European Union was opposed to the BDS movement and that the labeling of West Bank products did not constitute a boycott.

Faaborg-Andersen participated in Ynet and Yedioth Ahronoth's anti-BDS conference, despite calls from BDS activists to boycott the conference. "Sometimes extremist settlers criticize me, and now, the BDS movement does," he said.

The ambassador reiterated the EU's stance on the Israeli settlements in the West Bank: "They are illegal under international law, they are a hinderance to the peace process, and they aren't part of Israel. Our agreements concern products made within Israel's internationally recognized borders, border that don't include the settlements."

He also noted that "Our policy is engagement with Israel. We are Israel's largest trade partner, and we are Israel's most important international partner in science, technology, and the list goes on."

EU Ambassador to Israel speaks at the BDS conference (צילום: RR מדיה)

Faaborg-Andersen was quick to point out, however, that, "this isn't a boycott. We let (settlement products) be sold in Europe, but they have to be correctly labeled."

He argued that the threat of BDS should not be blown "out of proportion," and stressed that at present, the movement actually holds very little influence. With that in mind, he insisted that the BDS movement should not be given too much attention, as it could boost the movement's power.

The diplomat asserted that the key to defeating the BDS movement is in Israel and the Palestinians resolving their conflict. Israel, he said, should stop "being seen as undermining the two state solution" and must "show more of a will to move forward with the process."

"With no Palestinian issue," he said, "there will be no BDS issue. We don't expect Israel to be able to solve this issue alone."