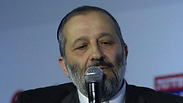 Minister Deri at the conference
Photo: Motti Kimchi
Deri mulling revoking resident status of BDS founder
Interior minister says Omar Barghouti uses rights given to him by Israel to act against it around the world; Intelligence Minister Katz calls for 'targeted civic prevention effort,' while Justice Minister Shaked details legal actions gov't is taking against boycott movement.
Interior Minister Aryeh Deri said Monday that he is considering revoking the resident status of BDS founder Omar Barghouti.

Deri was among four government ministers to participate in an afternoon question and answer round at Ynet and Yedioth Ahronoth's anti-BDS conference in Jerusalem. Transportation Minister Yisrael Katz, Justice Minister Ayelet Shaked and Energy Minister Yuval Steinitz also answered questions about combating BDS.

Earlier in the day, Finance Minister Moshe Kahlon and Education Minister Naftali Bennett took part in the morning question and answer round, along with Opposition leader Isaac Herzog, MK Tzipi Livni and MK Yair Lapid.

"The revoking of citizenship or residency is a tool that is hardly ever used because it constitutes a human rights violation," Deri said.

The interior minister has already revoked the resident status of several terrorists from East Jerusalem who committed attacks over the past six months.

Barghouti, he said, was born in Qatar and received a resident status in 1994 after marrying an Israeli woman from Acre and claiming his life is in Israel.

"And now it turns out it's not true. I was given information that his life is in Ramallah and he is using his resident status to travel all over the world in order to operate against Israel in the most serious manner," Deri said. "He was given rights similar to those of a citizen and he took advantage of our enlightened state to portray us as the most horrible state in the world."

Transportation and Intelligence Minister Yisrael Katz, meanwhile, called for a "targeted civic prevention effort" against BDS leaders and activists with the help of Israel's intelligence capabilities.

Katz elaborated that this effort entailed Israel's intelligence agencies exposing BDS leaders and activists who may be breaking Israeli law by being in contact with "elements hostile to the State of Israel," which in turn will allow Israel to isolate them and "pass information on them to intelligence agencies around the world."

Katz rejected the claim made by Opposition leader Isaac Herzog, MK Tzipi Linvi and US Ambassador to Israel Dan Shapiro that Israel's policies and the lack of resolution for the Israeli-Palestinian conflict were what fuelled the BDS movement.

"This is an organization whose goal is to undermine the existence of the State of Israel. This isn't about criticism of Israeli policy, which is a legitimate thing that we know how to deal with. They have a clear objective to destroy the State of Israel," Katz said.

Justice Minister Ayelet Shaked discussed the legal steps taken by the Israeli government to combat the BDS movement, saying this is the first government to treat the issue with the seriousness it requires.

Shaked noted that she recently increased the manpower of a department within the Justice Ministry dedicated to the issue, and elaborated on measures taken by that department.

"We hired the services of law firms abroad to examine the tools that can be used to deal with a decision like the one made by the EU to label settlement products from the West Bank," Shaked said. "We take advantage of local legislation to fight BDS and we're also promoting legislation in other countries."

"We see a lot of successes recently because Israel is diplomatically active," she added.

"When I meet with my colleagues, justice ministers from other countries, I feel that there's great cooperation. Justice ministers around the world are great friends of Israel. They all love Israel and want to cooperate with it, especially in light of Israel's experience in the war against terrorism," Shaked went on to say.

The justice minister asserted that the BDS movement was motivated by hatred to the State of Israel and by anti-Semitism. "It has nothing to do with one policy or another of the State of Israel," she determined.

Energy and Infrastructure Minister Yuval Steinitz lamented the fact that Israel is being targeted specifically.

"When states or groups or universities boycott Israel and then don't take similar actions against Turkish companies investing in northern Cyprus or in any other territorial dispute - you see double standards only against the Jewish state," he said. "If that's not anti-Semitism, then I don't know what is."