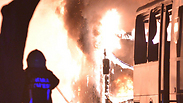 פיגוע טרור פיצוץ מכונית תופת הרוגים סמוך ל מעונות צבא אנקרה טורקיה
Islamic State terrorists are planning to carry out attacks in kindergartens and Jewish schools in Turkey, reported Sky News Monday.
Hours earlier, Israel upgraded its travel advisory to Turkey a week after the terror attack in Istanbul in which 3 Israelis were killed.
The information on the planned attack was obtained after the arrest of six ISIS militants in the city of Gaziantep last week. Apparently the main target of the terrorists was Istanbul's Great Synagogue which has a community center and a school nearby. "It is more than credible threat. This is an active plot," plot is active," an intelligence official told Sky News. The official said that as a result Turkish police have beefed up security at Jewish synagogues and centers.
The official stated that the threat to Jewish institutions is the most serious information received concerning an imminent terrorist attack, and that the attack could be planned for the next 24 hours or the next few days.
Following the attack in Istanbul, the Couner-Terrorism Bureau upgraded its travel warning to Turkey, from a basic concrete threat to a high concrete threat. The Bureau recommended that the public avoid visiting the country and that those already there leave as soon as possible.