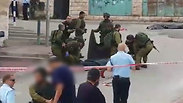 חייל ירה ב מחבל מנוטרל פיגוע ב חברון ו לחץ את ידו יד של ברוך מרזל
West Bank commanders have emphasized IDF protocol obligating soldiers to maintain a 25 meter radius from "potential threats", such as a terrorist lying on the ground and is suspected of carrying an explosive device. This comes in the wake of the shooting incident, in which a Kfir Brigade soldier opened fire on a neutralized terrorist in Hebron.

During the past week, West Bank commanders have had conversations with soldiers following the disputed incident at a checkpoint in the Tel Rumeida neighborhood of Hebron. The commanders explained to soldiers that what the arrested solider did constitutes a legal and moral failure and a violation of protocol, which could have put his fellow soldiers at risk.

According to military protocol, when there is a fear of a terrorist wearing an explosive belt, forces nearby are obligated to maintain a 25 meter distance and warn others nearby because firing at the terrorist could detonate the explosive and severely injure nearby soldiers.

In combat medic courses, which the arrested soldier took, instructors teach that a bullet entering one's body can exit elsewhere, potentially detonating an explosive. Moreover, such a concern is still relevant even the soldier shoots the terrorist in the head.

"We receive these orders in briefings before carrying out (missions)." a Kfir Brigade soldier told Ynet. "The (commanders) are telling us that it is better to neutralize without killing for intelligence purposes and to prevent (public) discontent."

Another soldier noted, "It pains us to see our fellow soldier wounded and another now entangled in a complicated situation. Ironically we are one of the most experienced brigades in the West Bank because we have been in the army for a year and eight months."