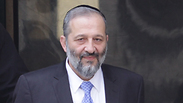 אריה דרעי שר הפנים פרשת שחיתות דירות ב הקבלן 28 ירושלים
Attorney General Avichai Mendelblit opened a preliminary investigation into corruption allegations against Interior Minister Aryeh Deri, it was released for publication Wednesday morning.

Deri wrote on his Twitter account, "I spoke with the attorney general tonight and I demanded he lift the gag order against the publication of everything pertaining to my case. I informed him that I will answer all questions asked of me."

According to a Channel 2 report Wednesday evening, Deri has been accused of extensive corruption. Details of the case have been censored by a gag order and still cannot be published despite Deri's Twitter comment.

In a separate context, the Calcalist reported that the deputy chairman of the Jewish National Fund and Aryeh Deri's brother, Shlomo Deri, participated in a meeting between JNF representatives and Ministry for the Development of the Negev and Galilee representatives regarding the transfer of millions of shekels from the JNF to the government ministry. Even though Aryeh Deri is the Minister of Galilee and Negev development, his brother, Shlomo, still attended the meeting. Shlomo's primary job at the JNF is to serve as head of the education committee and does not work on funding and development projects.

The meeting took place last Monday with the JNF Chairman Dani Attar, JNF Director Meir Spiegler, Deputy Chairman Shlomo Deri, and other JNF representatives from the north. The parties discussed funding for support walls along roads near Rabbi Shimon Bar Yohai's grave. The cost of the project stands at NIS seven million and the meeting was convened to review how JNF could contribute to infrastructure and building projects.

Deri reacted to the allegations on Wednesday morning saying, "I was completely taken by surprise last night by last night's announcements, and as a result I turned to the attorney general and implored him to remove the gag order. I'm making myself available to anyone investigating, every minute and every hour. My one and only request is to do everythin to refute the allegations."

He also asked those in charge "to speed up the inquiry and to step on the gas a bit so we can get back to our work as soon as possible. I will continue to work as usual."

Deri was forced to resign from the cabinet in 1993 for accepting $155,000 in bribes while serving as interior minister. He was sentenced in 1999 to four years in prison.

After thirteen years outside of politics, he returned to the leadership of the Shas party in October 2012.