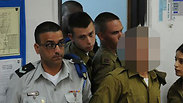 The soldier at court
Photo: Avi Rokach
A UN expert on human rights on Wednesday condemned the killing by an IDF soldier of a wounded Palestinian assailant last week as he lay on the ground, saying it appeared to be an extrajudicial execution.
Video taken by the B'Tselem human rights NGO last Thursday shows an infantryman firing into the head of a Palestinian as he lay on the ground in Hebron in the West Bank. Minutes earlier, the Palestinian had stabbed and wounded another soldier.
The soldier has been arrested, though not yet charged. The military initially said it was a murder investigation, but on Tuesday prosecutors told a court they were looking into possible manslaughter charges.
Video filmed by B'Tselem of the incident (צילום: עימאד אבו שמסייה. מתנדב בצלם בחברון)
The incident brought to a boil a debate in Israel over whether excessive force has been used against Palestinian assailants.
"The images shown carry all the signs of a clear case of an extrajudicial execution," said Christof Heyns, UN special rapporteur on extrajudicial, summary or arbitrary executions, of the Hebron shooting. "Whatever legal regime one applies to the case, shooting someone who is no longer a threat is murder."
On Thursday, an autopsy will be carried out on the Palestinian's body, with a Palestinian doctor present, and the findings could be key in determining the severity of charges to be brought against the soldier.
There is still a gag order regarding the soldier's identity.
The IDF chief on Wednesday sent out a letter to troops in which he said the army will support any soldier that makes a mistake in the heat of the battle, but at the same time it will hold accountable soldiers or commanders who do not adhere to the military's moral code.
The past six months has seen the worst period of sustained violence in the West Bank, Jerusalem and the Israeli interior since a Palestinian uprising ended a decade ago.