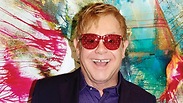 אלטון ג'ון wonderful crazy night
Shuki Weiss announced on Monday, "The Ministry of the Interior required that Elton John sign a declaration of loyalty as a condition of his receiving a work visa." The international promoter and producer was speaking at a panel in the anti-BDS conference held by Yedioth Ahronoth.

Weiss continued, "The requirement was officially presented to us two weeks ago. Of course, this absurd idea was dropped." He stated that Sir Elton, who will appear in Israel on May 26, refused, like other artists.

The Israeli producer also addressed the BDS movement's calls for a cultural boycott of Israel, sharing, "I can verify that many artists are not aware of the politics in the Middle East, and they're mostly influenced by BDS, which has been operating undisturbed for many years."

He accused the state of inaction, claiming that his requests to the state for assistance in combating BDS over the past decade were all answered too late, after performances by international artists had already been cancelled.

Weiss said that, in his opinion, "The state does not place any importance on artists' visits because it's not an existential requirement." I heard lots of replies (from government officials) along the lines of 'Let 'em not come then; who needs them anyway?'"

Refuting Weiss's allegation that a declaration of loyalty be signed, the Interior Ministry's Population and Immigration Authority stated, "This is first-class lie intended to procure headlines for a promoter at the expense of a government ministry. No artist has ever been requested to sign such a declaration, and the idea of it is surreal and a figment of Weiss's imagination. We are considering filing a defamation suit."

Sources in the Tel Aviv office of the Authority, with which Weiss works regularly, revealed that the promoter has not contacted them in many months, and that no requests at all have been submitted on the subject of Elton John.

Weiss responded to the Authority's statement, "The example was given as one of many examples that illustrate the lack of coordination and support from the government in hosting international cultural events in Israel."