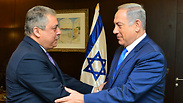 Netanyahu meets with new Egyptian ambassador to Israel
Photo: GPO
Energy and Infrastructure Minister Yuval Steinitz met with Egyptian Foreign Minister Sameh Shoukry in Washington on Thursday in a rare meeting between senior ministers of both countries, the first in many years.

The meeting was held on the sidelines of the Nuclear Security Summit in the American capital and lasted an hour.

The two senior ministers discussed different regional issues, including the potential supply of Israeli gas to liquefaction and purification facilities in Egypt, and the international effort to prevent radioactive terrorism.

Steinitz and Shoukry's meeting was the result of US efforts to introduce Egypt into the regional energy treaty between Israel, Greece and Cyprus - something Israel is also interested in. The Americans also want to include Turkey in this treaty, which is viewed as an "energetic umbrella" strengthening the axis of moderate countries against Iran and ISIS.

There have been many indications of warming ties between Israel and Egypt recently. Israeli Foreign Ministry director-general Dore Gold went on an official visit to Cairo to reopen Israel's embassy there; Israeli citizen Ouda Tarabin, who was convicted of spying for Israel and spent 15 years in Egyptian prison, was released in October; a new Egyptian ambassador to Israel was appointed after three years without an ambassador; and, a month ago, Prime Minister Benjamin Netanyahu held a public meeting with the new Egyptian ambassador.

In addition, senior Israeli officials often visit Cairo, including Netanyahu's envoy Yitzhak Molcho and high-ranked IDF officers, while Egyptian President Abdel Fattah al-Sisi recently met with a delegation of Jewish leaders, headed by Netanyahu's associate Malcolm Hoenlein.

Israel also often authorizes Egypt to have an increased military presence in the Sinai to fight against ISIS and has been using its influence in Washington to convince public opinion and Congress to increase American military aid to Egypt.

Meanwhile, Turkish President Recep Tayyip Erdoğan said he will meet with Israeli officials in April as part of the effort to improve Israeli-Turkish ties.

Erdoğan also noted the terror attack in Istanbul about two weeks ago, in which three Israeli tourists were murdered, "didn't only target Israeli tourists."