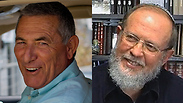 דורון אלמוג אלי סדן
Photos: Orot and Yuval Hen
The Israel Prize for lifetime achievement and exceptional contribution to the nation of 2016 will be awarded to Maj. Gen. (res.) Doron Almog and Rabbi Eli Sadan, the Education Ministry announced on Thursday.

For decades, Doron Almog served the State of Israel as GOC Southern Command. However, he will receive the prestigious prize for service in another field: the enormous contribution of the village Aleh Negev - Nahalat Eran, a rehabilitation village for the brain-damaged.

Almog founded the village after his son, Eran, was born brain-damaged. Eran died shortly after the village's establishment. Aleh Negev-Nahalat Eran has become a groundbreaking setting for children and adults with mental and developmental limitations.

Education Minister Naftali Bennett informed Almog and Rabbi Eli Sadan, founder of the pre-army preparatory programs, of their selection, which was decided by the prize jury.

Almog stated that the Israel Prize belongs to his son Eran. "Eran never spoke and never called me 'Dad,' but he was the greatest teacher in my life. It was he who taught me about the place of the weak in society, and it is for them that I work and will continue to work all my life," he said.

Almog related that he spoke with Bennett about the village's activities in the Negev and how much such action affects the entire State of Israel.

When Almog's brain-damaged son Eran reached adulthood, his parents sought in vain for an appropriate framework for him. Almog, who had served in the military for 35 years and had reached the rank of major general, initiated the establishment of the rehabilitation village in the Negev.

.

Eran died nine years ago, at the age of 23. "Without Eran we would not deserve the award," Almog told Yedioth Ahronoth on Thursday. "He was born brain-damaged, unable to speak, unable to do anything for himself—and yet it was he who bestowed me with enormous capabilities. This award is important in continuing to give legitimacy to all those who don't have power, to the unfortunate. They are the weakest in society, at its outermost edge.

"For years they were discriminated against. The award reflects the fact that the State of Israel has in some way grown up. Previously, no one talked about such children. They were placed in institutions and weren't talked about. There is a slow process of maturation of the society regarding the weakest. Anyone who wakes up in the morning and feels full of strength should be grateful that fortune has shine upon him and do more for them."

However, Almog pointed out that the work is not yet done. "I also see the dark corners," he said. "There is quite a way to go. Aleh Negev is a utopian model: a kindergarten with impaired children alongside healthy children; Bedouin, Muslim, Christian and Jewish children in one place that unites them in a country of great love."

The prize committee noted that the major general in reserves dedicated most of his life to the State of Israel and its citizens and led a revolution in society's caring for its special needs population.

The committee wrote, "The State of Israel's battle-hardened society has known physical defects for years, but, just like other countries, felt very uncomfortable and alienated with regards to those with mental and neurological disorders. There was a need for a change in perception with respect to this population and to implement changes to provide this population with possibilities so that they could live meaningful and proper lives."