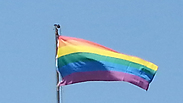 The Ministry of Tourism is preparing to invest an impressive NIS 11 million to promote LGBT tourism to Israel. The ministry is planning a campaign targeting multiple countries, including many in Europe, that is intended to promote Israel as a liberal country and entice members of the LGBT community to visit.

Tourism Minister Yariv Levin confirmed on Monday that his ministry, in conjunction with external organizations and in collaboration with the Tel Aviv Municipality, is examining the marketing plan for the LGBT community. However, unlike in past years, the plan is to extend beyond the Pride events during the month of June. The campaign's content and character has not yet been finalized, but its overriding goal is to increase LGBT tourism to Israel.

Tel Aviv Gay Pride 2016 Promo (קרדיט צילום: באדיבות עיר עולם)

"We're building a plan for a long-term strategy," said the minister. "Different organizations that we work with have marked the LGBT community as one that has significant potential for growth, and I certainly want to break into larger numbers than we have today."

Levy further noted that, in recent years, thousands of young LGBT people have come to Tel Aviv's Pride events, and his ministry is aiming to produce additional, innovative marketing activities.

At the world's largest tourism convention, ITB, which took place in Berlin at the beginning of March, Levin's ministry sent in reinforcements to promote Tel Aviv's Pride parade: the drag queen Arie Oshri. Oshri, an Israeli, resides in Berlin. During the convention, he spoke with guests about Tel Aviv and what it has to offer

.

A ministry source explained that LGBT tourism is less influenced than other streams of tourism by security and economic events. Since they began promoting Tel Aviv as a liberal city about a decade ago, the source added, tourism to it has grown by hundreds of percent. All year long, LGBT tourists, mainly from Europe, come to visit for weekends in Tel Aviv and trips around the country.