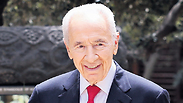 'BDS activists are not neutral, objective or know the facts'
Despite increasing calls to boycott Israel, Shimon Peres was honored last month by UNESCO, which signed a cooperation agreement with the Peres Center for Peace. The former president spoke to Yedioth Ahronoth and explained why Israel is failing in the fight against BDS and how, by making brave decisions, we can make things better.
At the age of 92, former president Shimon Peres is a kind of cultural asset for the Jewish people. A legend still walking among us. Last month, Peres received international recognition from UNESCO for his work in advancing peace, dialogue and science across the world. The organization, which hosted Peres at its headquarters in Paris, announced that it would adopt projects initiated and led by the Peres Center for Peace and implement them in conflict zones all over the world.

This is a surprising decision considering the fact UNESCO's attitude towards Israel is very problematic - some would even say hostile. It also frequently discusses anti-Israel resolutions raised by the Palestinians and their supporters. Like, for example, a resolution to remove the Cave of the Patriarchs and Rachel's Tomb from the list of World Heritage Sites, and one calling to recognize the Western Wall area as part of the al-Aqsa mosque complex.

That is why when UNESCO makes such a decision, it undoubtedly bestows a lot of honor on the State of Israel - after all, Shimon Peres is still Israel's number one ambassador worldwide.




In an interview with Yedioth Ahronoth, shortly after the emotional ceremony at the UNESCO headquarters, Peres discussed all of the burning issues on the State of Israel's agenda - and, unfortunately, there are many of them.
Despicable terrorism
Peres took advantage of his visit to Paris to meet with French President Francois Hollande and Prime Minister Manuel Valls. Hollande, like many other world leaders, sought Peres's advice on how to deal with the wave of ISIS terror attacks hitting Europe.

You met with the French leadership. Is there a connection between the terror attacks in Europe and the escalation of violence in Israel?

"Look, the world will eventually have no choice but to come together to fight terrorism. Terrorism is the harbinger of death and destruction, it has nothing to offer. Despite how despicable terrorism is, the terrorists don't make up the majority in the world, make no mistake about it. Israel and Europe must fight all manifestations of terrorism."

How can we do that?

"Europe must unite and dedicate all of its recourses to putting an end to the barbaric phenomenons of murder and beheading. A uniform strategy is needed, intelligence cooperation and the establishment of infrastructure based on advanced cyber technologies. It will also require legislation and regulations that would make it easier on security forces in Europe to do their job. Today, the division between the European countries causes a lot of damage. We must take an uncompromising stand against terrorism and that necessitates close cooperation. At the moment, there is no agreement on a resolution in Syria and no formulated plan on the issue of refugees. In my meeting with the French president, I stressed that Israel would support Europe and offer its experience and technological capabilities in the fight against terrorism, whenever called to."

What do you think about the criticism in Israel of the way European countries are handling terrorism, and about the derisive comments made by ministers Yisrael Katz and Ofir Akunis against Belgium and the EU's foreign policy chief?

"I don't think things like that should be said. Comments like that are not helpful to the State of Israel."

But perhaps Yisrael Katz is right. Perhaps the Europeans are naive and unable to call it like it is: Radical Islamic terrorism.

"If Yisrael Katz is right, then write an article in his praise. Call what like it is? I don't think we should always focus on accusations. Israel needs to focus on positive work. In my opinion, the UNESCO ceremony is proof that it's possible to make positive moves that would benefit the State of Israel and gain amity and a sympathetic ear from world leaders, through respectful dialogue."

I'm assuming you saw the graphic footage of the soldier shooting the already-neutralized Palestinian terrorist in Hebron. What are your thoughts about the incident? Where do you think we went wrong?

"I did see the footage. I want to place my support behind the IDF chief of staff and the defense minister, who announced all measures will be taken to thoroughly investigate the incident, without covering anything up, or obscuring the facts. It is of the utmost importance to maintain the IDF's strong values and the purity of arms. It's important to allow the investigation to run its course and only then make conclusions and reach a verdict."

What do you think of the UN Human Rights Council's decision to prepare a blacklist of businesses operating in the settlements ? How should Israel handle that?

"I condemn and vehemently oppose it. This kind of move harms the State of Israel and gives encouragement to supporters all over the world of the boycott against us. As Israel's president, I even made a special visit to the International Criminal Court at The Hague, met with the honorable judges and told them of the unbearable life of residents in southern Israel, mothers and young children under the threat of terror attacks and rocket fire from the Gaza Strip. The decisions made against IDF soldiers and against Israel are often unfair and we must show up at these discussions, fight with every legal and diplomatic tool at our disposal, and present our position in a professional manner and with a loud and clear voice."

Do you think Israel is using the right measures against the BDS Movement? And how do you think Israel should deal with the boycott campaign?

"We must fight BDS, but we're not properly presenting Israel's achievements. I'm telling you, UNESCO has done better public relations for us than we do ourselves. Instead of investing resources only in arguing with those who besmirch us, we need to present our positive side - which is immense. Bill Gates invested $11 billion in the fight against AIDS. We don't have that kind of money. But our contribution to agriculture in China, India and other countries far surpasses many other contributions. We need to show what we're doing in a positive light. Instead of blaming others - let's explain to the world how much a small country of 8 million people contributes to it."

Do you think the BDS threat to Israel is a strategic one?

"I think the very fact they chose to focus solely on Israel while there are many other far more violent conflict zones in the world - is a mistake on their part. And they say they're men of science? Is that science? That's choosing a hostile side. But what constitutes a severe threat? Israel could gain a lot of encouragement for the things it does, we need to genuinely work to restart the peace process. It's not that that we have to constantly say that the two-state solution is dead. Why should we reap despair? There's no place for despair."

And how should we fight BDS?

"We need to explain that BDS activists are not neutral, they're not objective and they don't know the facts. They handpick several isolated cases and make no constructive suggestions."

Is BDS a form of anti-Semitism?

"There are anti-Semites among them, and also self-hating Jews."
Making hard decision
Is there still a chance for peace with the Palestinians? Peres remains optimistic.
Who's to blame for this dead end in the peace process, Netanyahu or Abbas?
"I don't want to play the blame game," Peres says. "I know it is the responsibility of both leaders to sit down and talk. Each side is setting preconditions to peace negotiations. We need to let go of that and realize a diplomatic negotiation for peace is difficult and painful and at first, has no happy ending. If Israel wants to remain a Jewish and democratic state, it has no choice but to make difficult decisions. Dragging our feet would only cause more pain and sorrow."
The settlers claim the reality on the ground indicates that the Oslo Accords are dead. How do you view things? Is there still a chance to reach a solution?
"The principle of two states for two peoples is alive and well and those proposing to reject it doom us to a bloody conflict. We've been fated to live here as two people, one alongside the other. The leaders have the obligation to take a sober look at reality and protect Israel's status as a state with a Jewish majority that maintains democratic and moral values. Without the Oslo Accords, Israel would have to take responsibility of millions of Palestinians and there would be no moderate camp among the Palestinians led by Abbas, only a fanatic camp of hate-filled terrorism led by Hamas."
Peres says he gets his optimism from events like the ceremony at UNESCO - the UN's Educational, Scientific and Cultural Organization. UNESCO Director-General Irina Bokova signed a Memorandum of Understanding with the Peres Center for Peace to adopt projects like "Saving Children," which focuses on saving the lives of children in Israel's neighboring countries and in the Palestinian Authority by funding the advanced medical operations these children desperately need. So far, the project has helped save the lives of over 11,000 children through heart and brain surgeries, and kidney and liver transplants. Another project provided 280 Palestinian doctors with the opportunity to train in Israeli hospitals.
Another project Peres is very proud of is "Twinned Peace Sports Schools," which brings together Palestinian and Israeli teens, Arabs and Jews, to train and play soccer together. The former president also recruited Google Israel for another project in cooperation with the Ort schools chain, called "Hangout Bridges for Peace." The project brings together Jewish, Arab, Druze and Bedouin teens who, at first, meet virtually using Google's Hangouts platform and later also meet face to face. There are currently 18 twin communities throughout the country, including Yokne'am and Isfiya, Acre and Ramat Gan, Binyamina and Wadi Salama, and others.
During the ceremony, the UNESCO director-general showered Peres with praise and also - surprisingly - had praise for the State of Israel. "I am very worried for the future of the world - it is filled with terrorism, racism and extremism. But you, Shimon Peres, are a beacon of light and hope in this reality. With your patience and vision, you inspire UNESCO and the rest of the world's citizens to strive and work for a better world. UNESCO needs you, Shimon Peres. You are the pillar of cloud that guides us and you consistently work to advance peace for the children of the region and the entire world. Israel is an example for a state that began with lack of natural resources, water, energy, and went on to become an advanced country in science, health and education. It is an incredible example of a state that invested in education, hi-tech, science and innovation and as such, it is of no surprise that you are receiving the UNESCO award today on its behalf."
Israel's Ambassador to UNESCO, Carmel Shama-Hacohen, was very pleased with the praise. "This is a great boost for Israel in such a difficult time in which many attempts are made to undermine it and its legitimacy."
"For me," Peres says, "this is not a personal honor, but a great honor for the State of Israel, which is a state whose contribution to the citizens of the world in the fields of agriculture, health, science and technology are second to none. I love our children and we are committed to making a better future for them, to invest in education and to try and narrow the gaps between Jews and Arabs caused by fear and hatred."
After dedicating decades to this very goal, Peres is still optimistic about Israel's future. Israel's biggest problem is that it does not have any more ambassadors like him, who receive praise and awards from the international community and can open doors for the country even in organizations like UNESCO, which is not one of our greatest friends.