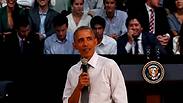 President Barack Obama (Reuters)
US President Barack Obama did not allow the CIA to execute a plan, which would have sought to overthrow the Assad government in 2012, according to a new book by a former David Laux CIA agent. If the program had succeeded, it possibly could have stopped the rise of ISIS and the flow of refugees into Europe, fleeing the chaos in Syria.

It has been previously reported that former Director of the Central Intelligence Agency David Petraeus offered to train and arm Syrian rebel groups to topple Assad. But Laux revealed that the Obama administration refused to give the CIA a green light to carry out a multi-stage plan to topple Assad. Laux served as an operative in the Middle East for a year and part of his job entailed meeting with Syrian rebels and intelligence officials in the neighboring countries.

When he returned to the US the following year, he crafted a plan in cooperation with other agents, which he said included all the elements needed to topple Assad. His bosses presented the plan to the Senate Intelligence Committee, and a former senior CIA official recently told NBC that Laux's ideas were ultimately presented to President Obama, who rejected the plan. The White House and the CIA declined to comment.

Laux said in an interview: "We had come up with 50 good options to facilitate that. My ops plan laid them out in black and white. But political leadership…hadn't given us the go-ahead to implement a single one." Security officials said they were surprised that the CIA authorized the publication of the book. However, they noted that the CIA heavily censored it, removing operational details. Laux resigned from the CIA after Obama rejected his plan.

The CIA spokesman refused to comment on the details of the book and instead personally castigated Laux: "Sadly, Mr. Laux's career at CIA did not work out. We hope that someday, maybe with age and greater maturity, he will have better perspective on his time here. The American people should know that his former colleagues continue to do extraordinary work despite his departure, and do so without the need for public recognition. "