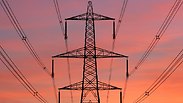 חשמל רשות החשמל חברת החשמל קווי חשמל
Israel's state electric company on Monday reduced power to a major West Bank city, saying it would take similar steps in other Palestinian areas over the next two weeks because of unpaid debt.

The Israel Electric Corporation said it had reduced its supply to Bethlehem by 50 percent, days after doing so in the city of Jericho. The company said the internationally-backed Palestinian Authority owes it nearly $460 million.

"The company's management stressed that it intends to take all available means to collect the debt and prevent it from growing further," it said in a statement.

Israel provides electricity to the West Bank through several Palestinian distribution companies. Last year, it briefly cut off power to parts of the West Bank several times because of the cash-strapped Palestinian Authority's heavy debts. It has also deducted money from regular tax transfers to the Palestinians to help cover the debts.

Hisham Omari, director of one of the distributors, the Jerusalem District Electricity Co., said that Bethlehem lost power for four hours on Monday, and nearby villages were expected to be affected in the next two days.

"We tried as much as possible not to reach this situation, but clearly this is a political decision," he said. "Today everybody in Bethlehem suffered," including hotels and the main hospital, he said.

In Gaza, meanwhile, local fishermen returned from their first expedition in an expanded fishing zone with a paltry catch.

The head of the Gaza fishermen's union, Zakareya Bakr, said the some 280 boats snatched up an average of just eight kilograms (17 Ibs.) of fish. He said the catch included red mullet, sea bream, grouper and some small rays.

Israel set a three-mile limit in 2007 after the Hamas militant group seized control of Gaza from forces loyal to Western-backed Palestinian President Mahmoud Abbas. It expanded it to six miles after an eight-day war with Hamas in 2012. The new maritime perimeter expands the fishing zone an additional three miles off parts of Gaza.

"Fishing in six miles is like fishing in a swimming pool," said fisherman Shaker Salah. "Expanding it provides an open space, which is better."