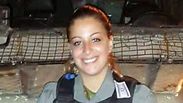 Border Police sldier Alison Bresson (Photo: Border Police)
Photo: Border Police
Allison Bresson, the border police soldier who killed a terrorist and critically wounded another in October 2015 at the Tapuch junction, thus preventing a stabbing attack, will be given the honor of lighting one of the 12 traditional torches at Israel's national Independence Day eve ceremony. The theme of this year's annual ceremony, marking Israel's 68th year as an independent country, is "civil heroism."

Bresson, who immigrated to Israel in 2012 alone and now lives in the northern city of Afula, came to the country in order to fulfill her dream of being in the Border Police. In October 2015, during routine Border Police operations at the Tapuach Junction, she identified two Palestinian youths getting off a scooter with drawn knives in their hands, walking towards a border policeman who stood at a roadblock. The alert Bresson fired at the terrorists, killing one instantly and critically wounding the other.

A Border Police statement stressed that she acted calmly, showed alertness and vigilance and saved the life of a fellow fighter and the lives of civilians. "We are alert and trained precisely for these events," said Bresson, recalling the incident. "The second I saw the two terrorists get off (he scooter) with drawn knives (and advance) towards the fighter, I realized that if I hesitated for a second, the fighter next to me would not be alive anymore. I have done my part. This is precisely the reason I made aliyah - to defend our country. "

Police Comissioner Roni Alsheikh and Border Police Commissioner Kobi Shabtai decided to recommend Bresson to be one of the torch lighters on Independence Day eve.

Bresson will light the torch alongside an IDF officer, marking the first time a representative of the Border Police will light a torch together with an IDF representative. The torch lighters' selection committee should complete its work this week and publish a full list of the participants in the torch-lighting ceremony on the Ministry of Culture's website.