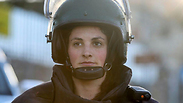 Jerusalem's first female bomb disposal expert follows father's footsteps
Alex Pekerman is one of only two female police explosive disposal specialists in the country. Despite the fact her profession is male-dominated, she says she receives no special treatment from her colleagues: 'They treat me like I'm one of the guys.'
The wave of terrorism in Jerusalem has the district's police force working round the clock, going from one crime scene to another, sometimes without a moment's rest while on duty. The police's bomb squad is working particularly hard: disarming bombs, examining suspicious vehicles and objects and checking for explosives at scenes of terrorist attacks.

Master Sergeant Alex Pekerman, 27, stands out among them as she is the first female bomb disposal specialist in the Jerusalem Police. She joined the team just six months ago, just as hostilities erupted.

"I was born and raised in Jerusalem," she says. "I grew up during the terror attacks of the second intifada. When I was in junior high, as a teenager, I experienced the second intifada. I experienced fear while getting on a bus. Now I'm experiencing it from the side of the defenders."

She arrived at her current job in the Jerusalem Police after completing a degree in biology and geology, which she says includes many topics that are relevant to her job, such as physics and chemistry.



"My father is an explosive disposal officer and I grew up in this system," says Master Sergeant Pekerman. "I saw him doing the job, I knew the people, and somehow it always attracted me. After I finished my studies, I was looking for a job and somehow I got pulled into the field of explosive disposal. Slowly I got sucked in and here I am."

Pekerman's average day ranges from reports on suspicious objects and vehicles to terrorist attack scenes, which she has unfortunately already visited quite a few times over the past six months. The first event that she worked as an explosive disposal specialist was the Ha'Neviim Street terrorist attack, in which a policeman was stabbed while sitting in a car.

"We handle all the details, we search the terrorist himself and his possessions to ensure that he is not carrying anything dangerous, scour the area to make sure he didn't leave any 'surprises' for security forces, and examine the route that he took to get there. Even when the terrorist is caught before committing an attack or captured alive, I always have a job to do."




Pekerman also had days in which she was called to several terrorist attack scenes in one shift. "One day, we had three attacks in Jerusalem within two hours. When the first attack happened, I was on my way to deal with an explosive device. We had a very complex day. A very hard day for everyone. There is a sense of purpose, I feel that I can do this and if I can then I should do this."

As already mentioned, Master Sergeant Pekerman is the first female bomb disposal specialist in Jerusalem. There is only one other female police bomb disposal specialist in the country - in Tel Aviv.

Despite the fact her profession is a male-dominated one, she says she receives no special treatment. "There is nothing different. They treat me like I am one of them. I've always gotten along well in mostly-male work environments. I don't feel that they make it easier on me or that they come to help me all the time. They come to help if I ask for it, if they see I really need it. They help me as they help each other, like I am one of the guys."

Police says the reactions to Master Sergeant Pekerman are particularly positive, especially since the bomb disposal profession is mostly viewed as a masculine one. "The reactions in the field when I take off the helmet and they see a ponytail are very special," Master Sergeant Pekerman says.

She says she has no problem dealing with sensitive or dangerous scenes. "The minute you arrives at such a place, you should put away your personal feelings. You have to look at it in a very professional manner and you have to think about the public's safety. In any case, you know you're never alone, you have the entire explosive disposal team at your back and the entire Israel Police, so you are never alone."

What are your future aspirations?

"I hope to reach the bomb disposal laboratory. Because of my academic degree, my understanding is scientifically orientated. In any case, I'll remain in the explosives disposal field to develop and become more professional," concludes Pekerman.