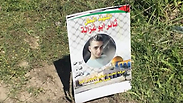 משטרה עיריית ירושלים פירקו גינה לזכר 47 שהידים מה אינתיפאדה האחרונה ב מזרח ירושלים
A garden planted in the memory of 47 terrorists killed during the recent wave of violence was destroyed by the Jerusalem district police on Tuesday.

The garden was established in the Ras al-Amud neighborhood of the city. An olive tree sapling was planted for every one of the 47 terrorists commemorated in the garden, alongside a placard with a picture and the name of the terrorist, as well as graffiti on a nearby wall praising these terrorists' actions.

A ceremony to establish the "martyrs' garden" took place three weeks ago, whereby members of the community were invited to bless the memory of these terrorists and plant an olive tree sapling in their name.

The police and municipality officials destroyed the garden when it was confirmed that the garden was built on public land and with no permits.

Public Security Minister Gilad Erdan said, "I welcome the quick and determined action taken in Ras al-Amud. The police will continue to act decisively against every form of incitement and support of terrorism in the State of Israel, no matter if it's at memorial sites for terrorists, at funerals, from the muezzins, or on social media—the law will bring these people to justice."

Joint forces of the Israel Police and Jerusalem Municipality destroyed the saplings and pictures, and wiped the graffiti off the wall. At the same time, a police investigation was launched to find the people responsible for creating this controversial "martyrs' garden."

A joint statement from the Jerusalem Municipality and the Israel Police stated, "This garden glorifies murder and terror, and encourages additional violence and terror. In light of this, the Israel Police will open an investigation."