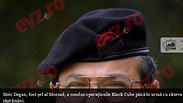 Romanian press about the arrested Israelis and the late Meir Dagan
Several employees of Israeli business intelligence company Black Cube have been arrested in Romania on suspicion of spying on the chief prosecutor of the country's National Anticorruption Directorate.
Among four suspects arrested there is one Israeli citizen - Ron Weiner. Another suspect, David Geclowicz, was identified by Romanian media as an Israeli national as well, but holds Belgian citizenship.
Reports in Romanian media stated that the suspects "established an organized network to carry out serious crimes, including cyber crimes, attempts to steal information, and email hacking."
The company said in response, "Black Cube is an elite international group that numbers more than a hundred Israeli intelligence veterans. It operates in many parts of the world and receives professional legal counsel in every country it operates. In recent weeks, the company has been working with government agencies in Romania to collect evidence of serious corruption in the Romanian government system. As part of the project, two of the company's employees, who reached significant achievements, were arrested. The employees worked in accordance with the local law and the allegations against them are untrue. We are confident the truth will emerge in the coming days, and they will be released back to their homes."
Black Cube, which began as a startup by several friends, has become a huge company that employs dozens of Israeli intelligence veterans — from computer experts to secret agents. The company's personnel divide their time between Israel and Britain and make a fortune by collecting intelligence that is used to resolve legal disputes.
"The idea behind this company is that everyone in the business world has skeletons in his or her closet, and they know how to get to these skeletons," says a client of Black Cube. "The faster people get rich, the more likely it is that they have something to hide. And there's always someone to reveal it: a mistress of one of the senior executives, a disgruntled employee, someone who was discriminated against. They just need to find someone who has an interest to reveal these secrets. That's their job."
Black Cube's full client list is secret, and its analysts and investigators don't always know who they are working for. However, the company is reported to have provided services for the British Jewish billionaire Vincent Tchenguiz; large banks in Israel and abroad; various oligarchs; some of the largest law firms in the world; a huge trading company whose client received a $150 million credit line from it and then disappeared, leading Black Cube's personnel to cross the world from Pakistan to Europe in search of assets; and Nochi Dankner.
Former Mossad chief Meir Dagan, who died last month, had ties to the company and reportedly served as an honorary president of Black Cube. "In recent years, he helped us in building the company mainly with his connections around the world," a senior company official said of Dagan. The former Mossad chief helped Black Cube with obtaining intelligence and information and provided strategic advice to its clients.
Another affair in Romania involving Israelis came to light last December when it was reported that billionaire Benny Steinmetz (the PMO's director-general during Yitzhak Rabin's tenure) and media advisor Tal Silberstein were suspected of trying to take over government-owned land in the country in exchange for gifts and bribes. Romania issued arrest warrants against the two Israelis, but these were cancelled by the Romanian Supreme Court.