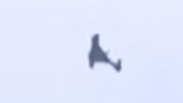 The alleged Israeli Harop drne.
The Washington Post has published a video which allegedly shows an Israeli made "kamikaz drone" circling the skies above Nagorno-Karabakh, an ethnic Armenian enclave in Azerbaijan which was recently the scene of fighting between Azeri and Armenian forces.

According to the US-based newspaper, an Israeli Harop drone was used. This seems to be one of the first times a drone of this type has been used in warfare.

Alleged Harop used in Azerbaijan fighting

According to an Armenian military spokesperson, the "kamikaze drone" hit a bus full of "Armenian volunteers" and killed seven of them. The spokesperson also published the statement regarding the drone on his Facebook page.

According to foreign news sources, Israel and Azerbaijan signed a large arms deals worth over a billion dollars a few years ago, causing anger among the Armenians. The arms deals were alleged to include drones and other Israeli-made offensive weapons.

It's unknown how many countries use the Harop, but according to foreign news sources, there have allegedly been sales of the drone to India. Israel Aerospace Industries (IAI), the producers of the drone, reported that hundreds of Harop systems have been sold "to various consumers," and that "the drone has substantial sales potential."