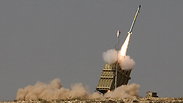 The Israeli Air Force (IAF) celebrated on Thursday, at exactly 5:16pm, five years since the first rocket interception by the Iron Dome system.

It began with the historic interception of a rocket fired from northern Gaza towards an Ashkelon neighborhood, and since then it has performed more than 1,000 anti-rocket interceptions from 8000 launches the system has identified. These were carried out in seven rounds of escalation and two operations (Operation Pillar of Fire and Operation Protective Edge). The system's success rate after five years is about ninety percent.

First interception by the Iron Dome system (באדיבות מפא"ת במשרד הביטחון ורפאל)

"It's like one's child's birthday, where you can recall where you were and what you did on that day," the commander of the air defense system, Brigadier General Zvika Haimovich told Ynet.

The senior officer, who was on duty as the air defense wing commander, noted that "it was only five weeks since we had received the system. We deployed it in the field on Sunday and on Thursday evening the first interception happened. I hurried out of the Defense Ministry to the area to investigate the interception, and on the way I received dozens of greetings on the phone."

Haimovich also said that in the days before the first interception, IAF officials conducted negotiations with the owner of the land on which the battery was deployed, hoping he wouldn't refuse its deployment in the middle of his field.

"We told him that it was necessary and important for the nation. and on the Saturday after the interception he met me and said, 'How lucky we are that you convinced me', recounted Haimovich.

The next day after the first interception, several more were performed by two batteries set up in Be'er Sheva and Ashkelon. According to the first battery's commander, Major Maor Gavriel , "A few weeks before the first interception we completed the main operational experiment. There was excitement after the first interception, but were were prepared for the following interceptions since we knew that this is what the system is capable of."

Major Gavriel was in charge of the initial Iron Dome team that was was established in 2009, after the decision of former defense minister Amir Peretz to find a solution to the problem of intercepting rockets over the Gaza perimeter. According to Gavriel, "we prepared for this moment, 29 years after the last interception made by the IDF's anti-aircraft system during the 1982 Lebanon War. The same soldiers from that first interception are still serving in our reserve battery units." Today, the IAF has ten Iron Dome batteries, half in the regular forces and the rest in the reserves.