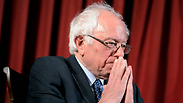 Democratic candidate Bernie Sanders
Photo: Reuters
Two days after claiming 10,000 innocent Palestinians were killed in Gaza during Operation Protective Edge, Democratic presidential candidate Bernie Sanders got into hot water again on Friday when he said he has no opinion on whether Israel should withdraw to the 1967 borders as part of a peace agreement with the Palestinians.

During an interview on MSNBC's "Morning Joe" program, Sanders was asked whether the only way to reaching peace in the Middle East was Israel withdrawing to the pre-Six-Day War lines.

Sanders speaking to MSNBC

At first, Sanders tried to dodge the question. "What I believe, first of all, is there are good people on both sides and there are political opportunists on both sides. As somebody who is Jewish, who has lived in Israel for a few months when I was a young man, who has family in Israel, I believe that of course the security of Israel, the independence of Israel, the right of Israel to live in peace and security, is paramount, but you have to recognize the plight of the Palestinians," he said.

"And I know that in America, in politics, maybe this is not something that is said very often. But we're not going to have lasting peace unless we recognized that, in Gaza for example, the current situation is deplorable. People are living with horrific levels of poverty in an area that has been just annihilated. So what I think is you need a two-state solution and we'll argue about the details of that."

When pressed on whether he had an opinion on the pre-'67 borders, Sanders responded: "Not at this point."

The Vermont senator further said that Israel reacted "in a disproportionate way" in Gaza, and corrected his previous statement to the New York Daily News on the number of Gaza casualties, saying "I did not know the exact number, but it turns out that according to the United Nations, over 2,000 civilians were killed and some 10,000 people were wounded."

Despite six recent back-to-back victories, Sanders is still trailing behind rival Hillary Clinton with 1,120 delegates to her 1,777. He is working to narrow the gap in New York, which will hold its primary elections on April 19. According to the latest polls, 56 percent plan to vote for Clinton, a former New York senator, while 38 percent said they would vote for Sanders. This is a much smaller gap than previous polls indicated.