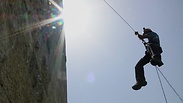 Rappelling down the Old City
Israelis and tourists from all over the world will descend upon Jerusalem during the Jewish holiday of Passover. The Jerusalem Development Authority and East Jerusalem Development LTD have come up with a new and interesting attraction for visitors to the old city this holiday season, repelling down the side of the Old City walls.

Although this idea sounds relatively simple in theory, it is quite complicated, especially in light of the security situation and concerns about damage to the archaeological sites.

"This (attraction) requires many permits from the different organizations and ministries who are responsible for the area. It even requires a special type of harness so that will protect the archaeological site from damage, but also not detract from the repelling experience," stated Roee Menes, CEO of the "B'marom" company which will be operating the attraction.

Besides rappelling, there will be a wide range of attractions in the Old City throughout the Passover holiday, including tours along the top of the Old City walls with a bird's eye view of the Old City and their juxtaposition with the new city, and an interactive area where visitors can learn how the Old City walls were constructed. This is a fun and challenging attraction for the whole family to do, literally putting you in touch with history. The minimum age to participate is nine-years-old.

There are two tracks to take, a north and a south track. The south track starts at Jaffa Gate and goes to the Dung Gate. Meanwhile, the north track starts at Jaffa Gate and ends at the Lions Gate. Tickets can be bought at the Jaffa gate.

The Old City wall tours are open from 9am to 5pm. Keep in mind, this attraction is not wheelchair accessible. The tour takes approximately an hour.