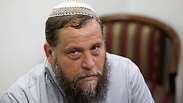 Radical right-winger acquitted of assault of radical left-winger
Despite being documented on video attacking Ezra Nawi, judge clears Benzi Gopstein of charges, accepting his claim that he thought Nawi and other left-wing activists, who were climbing the fence into a Jewish neighborhood in Hebron, were Arabs seeking to harm Jews.
Benzi Gopstein, the head of the anti-assimilation organization Lehava, was acquitted of assault on Sunday, over seven years after he was documented attacking radical left-wing activist Ezra Nawi in Hebron.

In August of 2008, several left-wing activists arrived in Hebron and tried to enter the Givat HaAvot neighborhood in Kiryat Arba. Gopstein, a radical right-wing activist, is seen in a video of the incident attacking several of the left-wing activists, including Nawi. The video came to light only years later following an investigative report on Channel 2's "Uvda" program.

The video shows Nawi and other left-wing activists climbing the fence alongside Arab residents of Hebron and infiltrating the neighborhood.

Benzi Gopstein hitting Ezra Nawi

Gopstein, who arrived at the scene, claimed he acted as one should act when hostile elements enter a neighborhood in which many children live.

A complaint was filed against Gopstein with the police following the incident, which led to an indictment.

Jerusalem Magistrate's Court Judge Dov Pollock ruled in Gopstein's favor and cleared him of the charges, noting that "the irony is that the video saved you."

Pollock accepted Gopstein's claim that he thought the left-wing activists were Arabs seeking to harm the Jewish residents of the neighborhood. The judge wrote in his ruling that "the circumstances of the incident justify an acquittal. We must examine whether the incident in question constitutes an assault or self defense."

In his verdict, the judge noted that a particularly acrimonious swear word that Gopstein uttered at Nawi "may not be worthy of being spoken, but does not constitute a threat, and is protected under the freedom of expression given to any man."

Gopstein's lawyer, Yitzhak Bam, welcomed the ruling. "Nawi is a man entirely devoted to provocation, and we're pleased with the decision of the court, which did not buy into (Nawi) and his anarchist friends' provocations," Bam said.

Gosptein himself also welcomed the acquittal. "I'm very glad that after years of drawn out legal proceedings, the court found me not guilty. I shouldn't have been put on trial, I was acting in self defense when I thought Palestinians and anarchists were entering the neighborhood (by climbing) over the fence."

He also added a clear threat: "In hindsight, I should've beaten them harder, but maybe there'll be other chances."