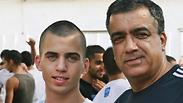 Herzl Shaul and his son First Sergeant Oron Shaul
Photo from a family album
Herzl Shaul, the father of Oron Shaul, and suffering from cancer, called on the Israeli government to expedite the return of his son's remains in order to bury them in Israel.

First sergeant Oron Shaul was killed in an armored personnel carrier incident in Shujaiya on July 20, 2014 in which six other Golani soldiers were killed. Hamas announced that it had captured Oron, but the IDF determined that Oron had passed away. The Shaul family eventually accepted the IDF's narrative and sat shiva (Jewish week-long mourning period) for their son.

Approximately six months ago, Herzl said that he was suffering from chest pains and underwent a number of medical examinations, which revealed that he has cancer. His wife also previously had cancer, but now is under medical surveillance.

According to Herzl, the stress and concern for the fate of his son, who has not been able to bury until this day, has contributed to the deterioration of his health. "I wake up every morning and I feel that they are not doing enough to bring back Oron's body," he said.

Herzl also commented on his wife's perspective that they sat shiva in vain and Shaul is still living: "Zahava, my wife, believes that he is still living because a mother is mother. It is very difficult for her to accept the painful fact." He added, "However, from the evidence they (IDF) presented us, I have no doubt he has passed away and we must return his and Hadar Goldin's bodies."

Herzl believes the bodies will be returned, but thinks it will take time. A meeting between Oron's parents and Prime Minister Benjamin Netanyahu was supposed to take place Monday but it was put off due to the Shaul's medical problems. Oron's family intend to wage a public fight to have their son's remains returned.