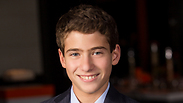 Bar-Mitzvah boy donates all his money for the children of Israel.
Noah Helfstein, a 13-year-old scientist from New York, donated $76,000 to less fortunate Israeli children; the advanced technology of the 'Maker Bus' to pass throughout Israel and encourage children to pursue their dreams of becoming scientists.
The first-ever "Maker Bus" - a specially renovated mobile technology lab where the means of production make the most advanced technology in the world available - will pass throughout Israel thanks to the funds donated by Noah Helfstein, an American Bar Mitzvah boy.
The equipment was purchased thanks to Helfstein, a 13 year-old boy from New York, who worked with UJA-Federation of New York's "Give a Mitzvah-Do a Mitzvah" program and decided to donate all of his Bar-Mitzvah money, $76,000, to bring "Do-It-Yourself (DIY)" technology to less fortunate Israeli children. Despite his young age, Noah is interested in DIY technology and advanced programming capabilities, and is also the proud owner of a 3D printer that he built himself.
"I am very fond of innovative technologies and am connected to them. I chose to donate the money from my bar mitzvah to this project because I wanted to give as many children in Israel the opportunity to experience it," Helfstein said.
Noah's parents, Stacy and Jason Helfstein, agreed: "We are so proud Noah chose to be involved in this bar-mitzvah project and share the same opportunity he was fortunate to have - learning about 3D printing and cutting edge, innovative technology - with the children of Israel."
The bus' advanced 3D printer allows the production of almost any object ranging from shoes, furniture, and kitchen equipment to toys and prostheses for the disabled and blind. The boy asked Israel to allow children to become scientists, inventors and developers, to experience what many consider to be the future of manufacturing in Israel and around the world.
The Maker Bus will be revealed on Passover eve and serve as a portable classroom laboratory outfitted with innovative technologies and educational tools. The bus will offer regular weekly courses as well as one-time workshops, and is aimed at vulnerable students ages 8 -15, including ultra-religious Jews and Arab students who reside in outlying, less affluent communities in Israel's north and south.
UJA-Federation's "Give a Mitzvah-Do a Mitzvah" program enables bar and bat mitzvah students like Noah to put their interests and love for Israel and the Jewish people into action," said Lori Strouch Kolinsky, director of the Manhattan division of UJA-Federation. "We are all so inspired by Noah and his incredible project, which will bring technology education to young Israelis and strengthen the relationship between New York's Jewish community and Israel."
The Makerbus project is run by XLN, a subsidiary of the Reut Group, and Ofanim.