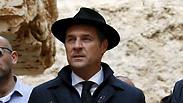 Heinz-Christian Strache
Photo: Reuters
The leader of Austria's far-right Freedom Party, Heinz-Christian Strache, visited the Yad Vashem Holocaust memorial in Jerusalem on Tuesday, laying a wreath under the engraved names of towns in Austria from where Jews were expelled by the Nazis.

He said anti-Semitism had no place in his party and urged a common front against Islamists.

Strache's party, which last year expelled a member of its parliamentary group for anti-Semitic comments, has sought to redress the worst of its past while retaining popular support with outspoken opposition to Muslim migration.

During his visit, Strache kept a Fedora hat firmly on his head as a sign of respect and declined to answer questions. But afterwards he explained why he was visiting Yad Vashem's Valley of the Communities, where the names of 5,000 towns and cities where Jews once lived are listed on monumental stone walls.

"For us, it's important to act against anti-Semitism and also against Islamism and terrorism and to discuss the issues we have in common," he told Reuters by telephone. "Anti-Semitism often emerges anew from Islamism and from the left."

The Israeli Foreign Ministry said it had nothing to do with Strache's visit and the Austrian embassy in Tel Aviv also said it was not involved. Strache said he was invited by Likud, the right-wing party led by Prime Minister Benjamin Netanyahu.

"We have a lot in common," Strache said of Likud. "I always say, if one defines the Judeo-Christian West, then Israel represents a kind of border. If Israel fails, Europe fails. And if Europe fails, Israel fails."

Michael Kleiner, a Likud party member and a former lawmaker, confirmed to Israel's Army Radio that Strache had been invited by his party and said he was a friend of Israel.
Rising force
Strache, 46, is a rising political force in Austria, with the Freedom Party winning 20 percent of the vote in the last elections in 2013. In some recent polls its support has been put at as much as 30 percent.

Strache, who failed in a bid to become mayor of Vienna last year, has himself been accused of anti-Semitism in the past.

In 2012, he was vilified over a cartoon posted on his Facebook page that depicted a fat banker with a hooked nose and six-pointed star buttons on his sleeve. The banker was gorging himself at the expense of a thin man representing "the people".

Austrian President Heinz Fischer called it "the low point of political culture which deserves to be universally and roundly condemned". Strache denied being anti-Semitic and has since repeatedly denounced anti-Semitism.

The memorial Strache visited on Tuesday is a poignant reminder of the impact of persecution on a race. Asked what thoughts that prompted about the displacement of Muslims, he said the two could not be compared.

"Every time people are driven away from their homes it's dramatic," he said, mentioning the threat from Islamic State in Syria and Iraq. "All of us in the western-liberal, Judeo-Christian community with common values must stand up against this inhumanity."