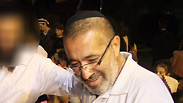 Avraham Asher Hasno
Photo: Uri Tzabari
The Military Advocate General has decided to charge the Palestinian who ran over Avraham Asher Hasno with manslaughter instead of murder, the victim's family was informed on Tuesday.

The family received the news with anger, calling the decision outrageous. "It can't be that the terrorist who ran over and murdered my father will only be charged with manslaughter and not murder," said Maydad Hasno, Avraham's son.

Last October, Avraham Hasno was on his way to Kiryat Arba when several Palestinians pelted his car with stones near Fawwar, southwest of Hebron. He stopped and exited the vehicle, and was run over by a truck driven by a Palestinian from Dhahiriya.

The driver fled the scene, and later turned himself in to Palestinian authorities, claiming it was an accident.

At first, the incident was treated as a hit-and-run, but two weeks later Avraham was recognized by the Defense Ministry as a victim of an act of terrorism.

In March, after Palestinian authorities released him, the Palestinian was detained by Israeli forces and taken for questioning.

The Hasno family said it intends to involve relevant authorities in an effort to change the charges against the driver.

"Our family fought to be recognized as a family of a terror victim. Now, we're going through the whole thing again when he (the driver) is going to be charged with manslaughter and not murder," son Maydad said. "We're simply shocked. This terrorist came to murder my father."