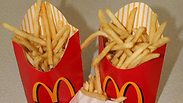 Health Minister Yaakov Litzman called on Israelis not to eat at McDonald's during a conference on Tuesday in Tel Aviv, where he promoted the Health Ministry's healthy eating campaign. "We need to educate our children not to eat junk food," he said.

"I know that they will criticize me behind my back," he said. "We must not consume so much candy. That's true for diabetes and true for heart health. We are going to focus on prevention (of illness) this year."

He emphasized that some groups may be angered by his statements, saying, "I know that there are people and large companies who do not like (these statements). I have a secret for all of you. I have no primaries. I chose the Health Ministry because I think it is the place where it is possible to save people."

McDonald's responded to Litzman's statements, saying, "It is troubling for us that Health Minister Litzman and other ministerial leaders are seeking headlines and have not internalized the health revolution that McDonalds Israel has underwent, which won the acclaim of nutritionists and health professionals. McDonalds Israel is the healthiest chain of fast food restaurants in Israel."

The fast food giant's spokespeople questioned the Health Minister's motives for singling it out, speculating that the ultra-Orthodox leader of the United Torah Judaism party may have his eye on McDonald's due to the fact that some of the chain's stores are open on the Sabbath and serve non-kosher food.