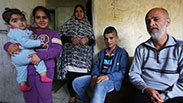 Aref Tutunji and several of his family members.
Photo: Gil Yohanan
PM's Office intervenes, stops E. Jerusalem home demolition
The Israel Police and Jerusalem Municipality were preparing to demolish an illegally constructed home in Wadi Joz neighborhood, but were halted at the last moment. The decision is likely due to the government's desire to avoid increasing tensions during the already-sensitive time of Passover.
The Jerusalem Municipality and the Israel Nature and Parks Authority (INPA) were preparing to demolish an illegally-constructed home in the East Jerusalem neighborhood of Wadi Joz on Tuesday, assisted by police, but were ordered to halt operations by the Prime Minister's Office. The decision to cancel the demolition at this time was made due to concerns that it may lead to increased tensions with the Palestinian population during the Passover holiday period, already considered one of the year's most sensitive times for Israeli-Palestinian relations.

The home in question was built illegally in 1992, adjacent to a local market. In 1974, the land around it was declared to be part of a national park, which put it under the jurisdiction of the INPA. Despite the occupants' appeals, the courts ruled that the structure is to be demolished.

Aref Tutunji, the owner of the home, which houses 11 people in just three rooms, expressed his approval of the government's decision to stop the demolition, saying, "The Palestinian press wanted me to speak against the state of Israel, but I won't badmouth the state. I was hospitalized for a year in an Israeli hospital and the state pays for my children's education. I won't argue with police officers if they come over to demolish (the home), but I ask one thing from the state: I just want my home."

A state official who commented on the matter said the demolition was not cancelled permanently, just postponed. "These days, everyone needs to make calculated decisions in order to not enflame the region," he said.