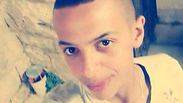 Mohammed Abu Khdeir
Photo: Reuters
One of the two minors convicted for the kidnapping and murder of Palestinian teenager Mohammed Abu Khdeir in July 2014 appealed his sentence to the Supreme Court on Wednesday, claiming he only played a minor role in the attack.

The defendant was sentenced to "only" 21 years in prison after judges determined that he played a "minor role" in the murder, while his accomplice received a life sentence.

According to the appellant's attorney, Avi Hymie, his client was unaware of the intentions of his two accomplices to carry out a murder.

Moreover, he repeated a previous line of defense that the accused was 16 years old at the time of the murder and that despite the minor role he played, his intentions were limited to merely kidnapping and beating an Arab in revenge for the kidnapping and murder of the three Jewish teens Gil-Ad Shaer, Naftali Frenkel and Eyal Yifrach a month prior to Khdeir's murder. He further noted that his client sat with his back to his two companions during the journey after they burned Khdeir to death.

Due to the fact that the murder was not premeditated and that he neither wanted nor intended to kill Khdeir, the attorney contended, a sentence based on murder and kidnapping with intent to murder, as determined by the courts, was legally untenable.

During the sentencing, Judges Yaakov Saban and Rivka Freidman Feldman justified the more lenient sentence in comparison to his accomplice, claiming that "he is young and could potentially be rehabilitated. Despite his nefarious actions - in which he kidnapped the deceased, prevented him from resisting and helped strangle him - he did not physically participate in the latter parts (of the attack) in which gasoline or oil was poured on the victim's body."

The second individual who was indicted for the murder, represented by attorney Zion Amir, requested an extension to present an appeal.

The Jerusalem District Court will determine next week whether to sentence the third and central suspect in the incident, Yosef Haim Ben David, or to accept a personal medical assessment which raises questions about his mental stability and which could absolve him of responsibility for his actions.