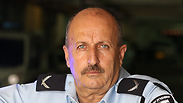 Gamal Hakroosh
Photo: Elad Gershgoren
The Israel Police promoted Jamal Hakrush, an Arab police officer, to the rank of deputy commissioner on Wednesday, making him the highest-ranking Muslim ever to serve in the force.

In his new position, the 59-year-old Hakrsh faces an uphill battle overseeing policing in Arab communities, where residents are deeply suspicious of Israeli police. Many Israeli Arabs, who make up a fifth of the country's population of 8 million, feel their community is discriminated against and stigmatized, and often view Israeli police with hostility and fear. The Israeli Arabs are generally poorer and less educated than Jews and suffer from discrimination and sub-standard public services.

In turn, a lack of effective policing in Arab communities - where crime is rampant and often left unchecked by police - has fueled tensions further. Arabs often accuse the police of being indifferent to Arab crime so long as the Jewish population is not affected.

With Hakrush's promotion, and the approval this week by the cabinet of a plan to step up law enforcement in Arab areas, Israel is hoping to change that perception.

"To this day, we did not grant the Arab sector equal law enforcement services. In everything related to the police, we did not act with equality," Public Security Minister Gilad Erdan said at the Tel Aviv ceremony for Hakrush on Wednesday.

The government plans to add police stations and hundreds of officers to serve Arab communities over the next five years. It has also recently announced a landmark billion-dollar budget intended to improve the living conditions of the Arab community.

Hakrush hails from Kafr Kanna, an Arab town in northern Israel that experienced violent demonstrations in late 2014 after a local man was shot and killed by police. He joined the police force in 1978, serving as station chief in a number of cities.

As deputy commissioner, one rank below the national police chief, he is now the highest-ranking Arab in the force. At least one Druze officer has held the same rank, but Arab Muslims generally are less integrated into Israel's security forces and those who do serve are often viewed as traitors.

Hakrush beamed as he received his rank in a packed auditorium at Tel Aviv's police headquarters. In the crowd, Arab village leaders, some wearing traditional Arab headdresses, dotted a sea of light blue police uniforms. Flanked by his family, he embraced Erdan and police chief Roni Alsheikh as the audience burst into applause.

"The police's job is to serve the people and among the people is the Arab citizen, the Arab Israeli citizen, and he deserves service," Hakrush told The Associated Press. "He deserves that the police stand beside him."

Hakrush's promotion is likely to spark opposition, not least because he will have jurisdiction over East Jerusalem, an area that has been a focal point for unrest during the seven month-long wave of violence.

In a possible sign of the challenges Hakrush faces, Arab members of the Israeli Knesset were absent from the ceremony.

"This won't change anything," said Salah al-Yassini, an Arab resident of East Jerusalem.

While most of the attackers during the current round of violence have been Palestinians from East Jerusalem or the West Bank, some Arab Israelis have also participated in the violence.

Most notable was a New Year's Day attack by 31-year-old Nashat Melhem, who opened fire on a Tel Aviv bar, killing two people and later an Arab taxi driver. Melhem fled, sparking a week-long manhunt that ended when he was killed in a shootout with Israeli forces in his hometown.

Tensions were then compounded by remarks by Prime Minister Benjamin Netanyahu, who demanded a crackdown to impose law and order on Arab towns.

Also, most Arab citizens remember Netanyahu's election day comments last year, when he galvanized his hawkish supporters by warning that "Arab voters are going in droves to the polls." The comments drew accusations of racism and international condemnation. Netanyahu later apologized.

Amnon Be'eri-Sulitzeanu, the co-director of The Abraham Fund, a group that promotes co-existence, called Hakrush's promotion a "historic" achievement, but one that must be met by a broader change of approach by police.

"The most important thing is to build more trust with the Arab population," he said. "Every police force in the world ... needs trust to provide security."