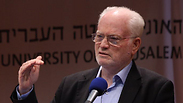 Maj.-Gen. (res.) Amos Gilad
Photo: Sason Tiram
Maj.-Gen. (res.) Amos Gilad, the director of policy and political-military affairs at the Defense Ministry, warned on Wednesday that Mohammed Deif, the head of Hamas's military wing, "doesn't care about the political bureau's policies, and does whatever he wants."

Deif, who commands the Izz ad-Din al-Qassam Brigades, has survived several Israeli assassination attempts, the latest of which was during Operation Protective Edge in the summer of 2014.

However, Gilad said that Israel's deterrence works on both the military and political wings of Hamas. "Our deterrence is still very effective and Hamas won't attack us as it is worried about its own skin," he said.

"The current calm situation (on the Gaza border) comes from Israel's strength and deterrence," he asserted.

Hamas, he said, has been unsuccessful in its efforts to further escalate the violence between Israel and the Palestinians. "We have the upper hand in this secret war thanks to our security services, but this won't stop them from trying, and they won't stop until they're successful," Gilad noted.

The real risk that Hamas poses, he said, "is their central ideology according to which there is no place for agreements with Israel. Contrary to delusions by some, Hamas had never changed its policies and remains true to its path. They're also patient, and they're willing to wait. Hamas won't adopt any principle that recognizes true coexistence."

Gilad also warned that the electricity Israel provides the Gaza Strip "is being used for the production of rockets that are later aimed at Israel. This is absurd. No other country would allow this, but we do."

Despite this, he said, Israel will continue aiding the Palestinians. "I'm hoping to have a water desalination project, and over 3 million construction aggregate were allowed into the Strip to rebuild houses," Gilad noted.

"The situation in Gaza is hard, but Israel will aid with a series of economic measures that share a common policy - not to allow Gaza to collapse. I hope Hamas will not be there for long, so the Palestinians could have some sort of a future. Under Hamas's rule, they won't."