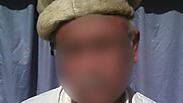 A Jew from Pakistan pleads: Let me make aliyah
The handful of Jews left in Pakistan hide their religion in fear for their lives, but their tradition passes on from one generation to the next. Zuriel Ben-Israel, one of the few Jews remaining in land of the Taliban, wants to make aliyah with his family, but faces great obstacles.
I'm used to scrolling through my Facebook timeline quickly, but one of my friends' posts caught my attention. It said "Shabbat Shalom from Pakistan." Shabbat Shalom from the home of the Taliban, the nation at war. It was signed by Zuriel Ben-Israel. That is his Hebrew name - his Pakistani name is withheld to protect his personal safety.

There are almost no Jews left in Pakistan. In 2014, the media reported that there were seven Jews left in Pakistan, but they hide their identities for fear of their neighbors and the authorities. Ben-Israel, 57, married with six children, describes himself as an ardent Zionist, who maintains a full Jewish life thereby endangering his life and the lives of his family. His children serve in senior positions in the education system in the country, and all of them are college graduates.

Over the years, many Jews kept their religion in Pakistan a secret, fearing for their lives, however, the knowledge of their Jewish identity has been passed down from generation to generation.

"I know that we are descendants of the Jewish people, but I have no official documents that could prove my family's history," he says.

But paradoxically, in order to make aliyah to Israel, he is required to prove that he is Jewish. "I started thinking what I had to do to convert, but all of my friends are Muslims. Pakistan has no rabbi, a Jewish community, or a synagogue - and therefore I can't perform the official steps required for conversion."
Secret meetings
One of the conditions for the conventional conversion process, or alternatively, to be recognized under the Jewish Law of Return - is belonging to a Jewish community. Over the past five years, Ben-Israel has been studying Hebrew, the Bible, kashrut laws and whatever else is required, and says he is ready to convert even though his Judaism has been passed down to him throughout the generations.
"I'm living a Jewish lifestyle, and I make it a point to celebrate the holidays with my family," he says, "but every day that passes I am aware that this is not an easy process."
"I live in a society in which the very desire to be connected to the Jewish people could put me in danger, and the fact that I don't show up at the mosque for prayers, and I'm not marrying off my grown up daughters raises suspicions among my neighbors. So why am I doing this? Because I have an inner voice that is guiding me to the truth. Pakistan is not a simple country, journalist Daniel Pearl was murdered here because he was Jewish. But I'm willing to take those risks, because I love my people and God."
In pictures he sent me, Ben-Israel and his family are seen celebrating Hanukkah and Israel's Independence Day, as well as meetings with other people who see themselves as descendants of the Jewish people. They avoid meeting out in the open to escape their neighbors' watchful eye.
Placing hopes on Israelis
Zuriel Ben-Israel says he has sent hundreds of letters to every possible official or organization in Israel and the Diaspora who might be able help him, but to no avail.

Rivka Meyer from the United States, who aids Ben-Israel and translates all of his correspondences into English, jumped on the opportunity to send me information, details and pictures of the family.

The Chief Rabbi's office confirmed that they received his request and directed it to the office of the Sephardi Chief Rabbi of Israel, Rabbi Yitzhak Yosef. The Immigration and Absorption Ministry has yet to respond. The Shavei Israel organization, which specializes in descendants of Jews who don't possess official documents, has also not responded yet.

The Jewish Agency said that "according to the Interior Ministry's regulations, to make aliyah to Israel one must present documents proving entitlement to the Law of Return. We will be happy to receive the applicant's phone number so we could try and help him as much as possible, provided he has the appropriate documents in his possession."

But due to the circumstances, Ben-Israel has no official documents that could prove he is Jewish. It appears that the only solution is for him to immigrate to Israel under a special arrangement, and only then could he and his family complete the full conversion process required in Israel.

In the absence of a response from Israeli authorities, Ben-Israel hopes that Israeli citizens can help him.

He asked I publicize his name despite the danger involved. "I'd rather take a chance, than wait for another decade for something to happen," he writes. "I feel exhaustion in my heart and soul, and I can't stop thinking about how I could prove my sincerity and love for the Jewish people, and how I could further open my heart and soul to them."

Dina Abramson is a journalist and the editor-in-chief of the Best One Online website .