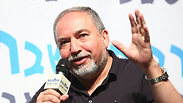 Lieberman at Be'er Sheva
Photo courtesy of Be'er Sheva Municipality's spokesperson
The leader of Yisrael Beytenu, MK Avigdor Lieberman, attacked Prime Minister Benjamin Netanyahu's policies on Saturday. According to Lieberman, these policies are allowing Hamas to strengthen on the cusp of a confrontation with Israel.

In the Be'er Sheva morning event, "Saturday Culture," Lieberman called the current government "defeatist and weak" and accused them of appearing hysterical to the other side.

"The government adopted an incorrect policy," charged Lieberman."It is allowing Hamas to continue to construct a terrorist infrastructure and to focus on consolidating its power so that it will be able to go to war at a convenient time.




"If the next confrontation is inevitable, then why are we letting Hamas to continue to strengthen? This government is pursuing a defeatist and weak policy. The leadership is not built for and not capable, mentally, psychologically or personally, to handle the challenges that are on the agenda. This is a government that doesn't know how to take decisions and that is afraid to fight against terror. We must defeat terrorism, not contain it."

Later in his discussion, Lieberman addressed the recent news regarding his Knesset colleagues, Minister Aryeh Deri and Opposition Leader MK Isaac Herzog. "They've been conducting themselves very well," he judged. "Everyone deserves the presumption of innocence. I hope that justice is served."

The opposition MK ended his conversation by stating that he believed that the country is on the cusp of new elections. "Stabilizing the country and returning security to its citizens is important. It's a lot more important than being prime minster. If, by May 23, Netanyahu doesn't expand the coalition, we're going to have elections this year. I hope that I'm right."

In response to Lieberman's speech, the Likud party stated, "Lieberman is trying to make a career change from a failed political commentator to a military commentator, but he doesn't meet the minimum requirements. A man who has only been under fire from tennis balls, a man who has never led even a single soldier on the battlefield and never took military decisions, a man who has never lasted an entire cabinet meeting from start to finish—cannot be a military commentator.

"And if he is not a commentator, then he will remain nothing more than a small, prattling politician who insists on giving advice to those who run the country firmly and responsibly. Lieberman has been a friend of the left after the elections, and he is currently working on running a campaign together with Lapid to crown a government of the Left. He has proved one thing: in the moment of truth, Lieberman chooses the Left."