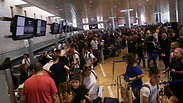 TLV airport crowds
Photo: Motti Kimchi
Leaving Israel for Passover? Sunday the 17th, the two following Thursdays and May 1 will be the busiest days during the holiday at Ben Gurion Airport. According to information provided by travel agents, over 350,000 travelers will vacation abroad for Passover.

The top locations are Greek islands, the US, Italy and France. The biggest crowd will be in flights to Turkey, but most of those are for transfers only to final destinations elsewhere.

According to data from the Israel Airports Authority, over 1.1 million travelers will pass though Ben Gurion Airport during Passover; the sum includes Israelis and tourists alike in flights in and out of the country. This is a 13% increase to Passover last year. During the holiday, 6,900 plans will land and take off from the airport.

The Authority recommends that travelers check in online at home to save time at the airport.